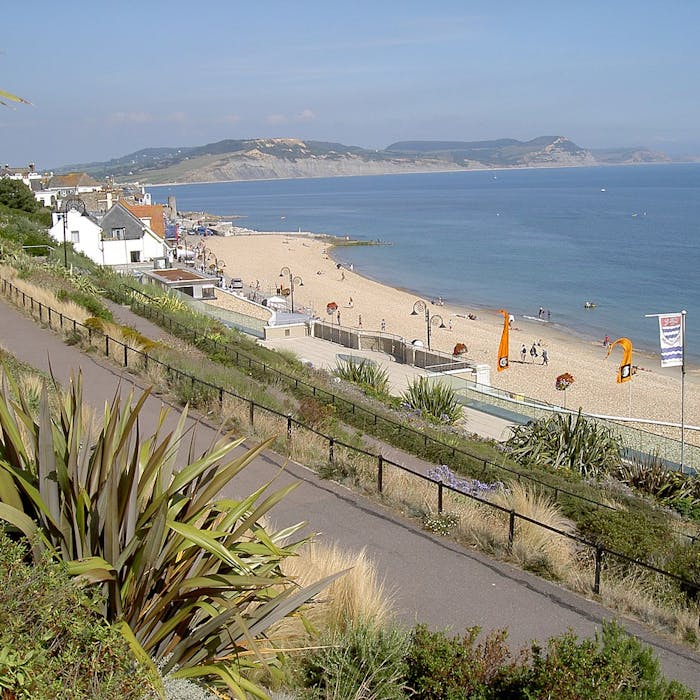 Lyme Regis - famous for fossils and ladies on the Cobb
Lyme Regis is a town in west Dorset, on the Jurassic Coast. It is famous for its fossils, Mary Anning, and as the setting for two well-known romantic novels.
Lyme is mentioned in the Domesday Book of 1086.
In the 13th century, it developed as one of the major British ports and was granted a Royal Charter from King Edward I in 1284 when "Regis" was added to the town's name.
Lyme Regis was able to develop as a port and shipbuilding town due to the "Cobb" - its harbour arm.
The town became a popular seaside resort from the late 1700s, particularly after the Napoleonic Wars made continental travel difficult for the upper classes.
Author Jane Austen visited Lyme Regis in 1804 and was very fond of the town. She used it as a setting for part of the action of her novel Persuasion. In a pivotal moment in the novel, one of the female characters jumps from the Cobb in a moment of liveliness and is injured.
The Cobb also features in John Fowles' novel The French Lieutenant's Woman and the film adaptation of the story.
Mary Anning was born in Lyme Regis in 1799 and took part in the family sideline - finding fossils and selling them to tourists. Her discoveries became sufficiently impressive to attract the attention of London naturalists. The Lyme Regis Museum was eventually built on the site of her house in 1902.
A lesser known daughter of Lyme Regis is Eleanor Coade, an entrepreneur who created "coade" stone - an artificial stone that could be poured into decorative moulds. Her factory ran successfully for over 50 years until just after her death at the age of 88. Her home - Belmont House - with its decorative stonework, can still be seen on the road into Lyme Regis.
Further reading
Links to external websites are not maintained by Bite Sized Britain. They are provided to give users access to additional information. Bite Sized Britain is not responsible for the content of these external websites.