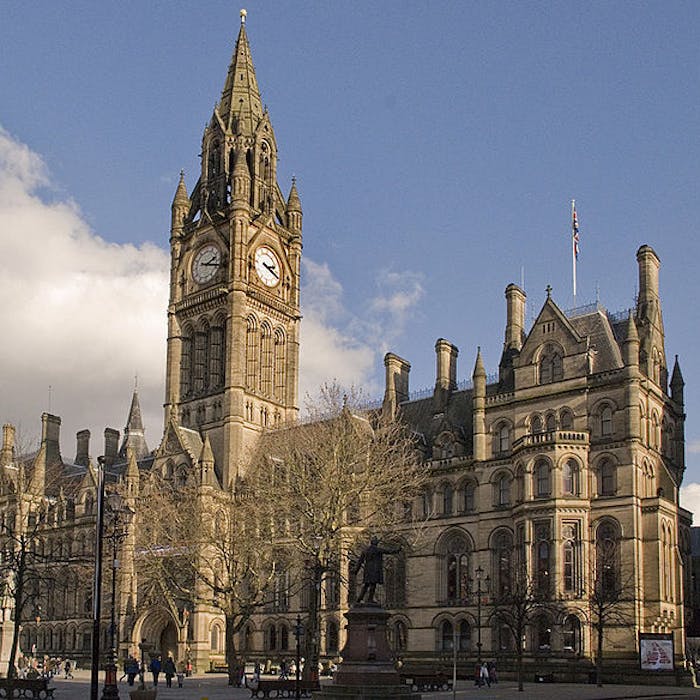 Manchester Town Hall - Neo-gothic municipal splendour
Manchester Town Hall is a Victorian, Neo-gothic municipal building, perhaps the apotheosis of Victorian civic architecture. Located in Albert Square, it is the ceremonial headquarters of Manchester City Council and houses a number of its departments. It was designed by prominent architect Alfred Waterhouse (who also designed the Natural History Museum), and was completed in 1877.
During the 19th century, Manchester was at the heart of both the Industrial Revolution, and British commercial power. It grew to become the centre of the cotton industry (it was known as 'Cottonopolis'), and as the city's size and wealth substantially increased, it was felt this should be reflected in a suitably prestigious centre of governance.
Proposed in 1863, the Manchester Corporation stipulated the proposed building be 'equal if not superior, to any similar building in the country, at any cost which may be reasonably required'. The location must be central, accessible and close to Manchester's banks and other municipal offices - with an added necessity of being by an open area, in order to display the ornate construction to best effect. Albert Square - whose frontage measures 98 metres, was chosen.
The competition to design the town hall attracted 137 entries, and Waterhouse was chosen for his design's architectural quality, the layout and use of natural light, considered to be far superior to his competitors. However, in terms of design and aesthetics, it was actually placed fourth! Despite that, Waterhouse was appointed architect on 1 April 1868, and the foundation stone was laid on 26 October 1868. Construction took nine years, and used 14 million bricks.
Waterhouse's design exemplifies the Victorian Gothic revival style, which was influenced by themes from 13th-century Early English Gothic architecture. In particular, Manchester Town Hall features low rib vault ceilings and tall arched windows. At the time Neo-gothic was perceived as an affirmation of modernity, over the Neoclassical architecture of nearby Liverpool.
Despite its architectural indulgences, the Town Hall was designed to facilitate the practical needs of the time. These included gas lighting, a warm-air heating system; and 'fireproof' construction - achieved via a combination of concrete and wrought-iron beams. An extension was added in 1927 (by architect Emanuel Vincent Harris) - where council meetings are now held - and extensive repair and modernisation began in 2014, and is continuing. This means the building has been put out of use from 2018 until 2024.
Tours of the building, and the clock tower - named Great Abel, after Abel Heywood (Manchester Mayor, who opened the building in 1877) - have traditionally been available, and are expected to resume upon reopening.
Further reading
Links to external websites are not maintained by Bite Sized Britain. They are provided to give users access to additional information. Bite Sized Britain is not responsible for the content of these external websites.