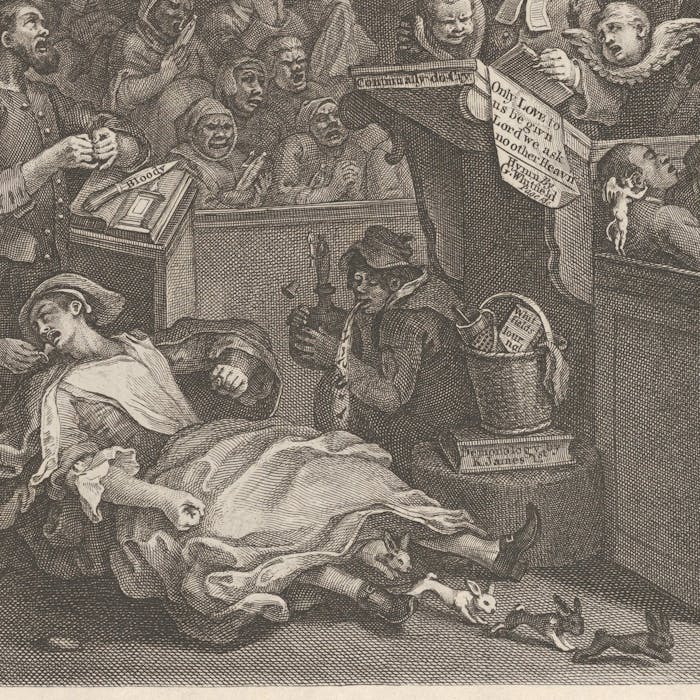 Mary Toft - the woman who "gave birth to rabbits"
Mary Toft was an English woman from Godalming, Surrey, who in 1726 attracted considerable attention from doctors, high society and even the King when she appeared to have given birth to rabbits.
Mary was born in 1703 in Godalming, which was one of the poorest areas in the county at the time. At 17, she married the wool textile worker Joshua Toft, 18, and soon had two children. Every morning, Mary Toft walked two hours to labour in a hop field.
She was just 25 when she delivered her first surprising progeny in September, 1726. She'd miscarried the month before—a common outcome for working pregnant peasants in the 18th century. But this latest "birth" did not appear to have been human. Toft's family called upon local obstetrician John Howard, who helped her apparently give birth to nine dead baby rabbits.
Howard was fascinated by this supernatural occurrence, and wrote to England's most revered doctors and scientists, as well as the secretary of King George I. Toft had now become a local celebrity, and she was moved from Godalming to the larger nearby town of Guildford, where Howard worked. She continued to apparently give birth to dead baby rabbits. Whenever this occurred, Howard promptly pickled it and placed it in a jar on a shelf in his study.
Toft reckoned that these astonishing births were caused by being startled by a rabbit in a field. From that moment, she said, she dreamed about, and had a "constant and strong desire" to eat rabbits.
The King sent his doctor to investigate. The medic, who arrived when Mrs Toft was in labour with her 15th rabbit, was certain she was genuine - and took some of her offspring back to London to show the monarch and Prince of Wales. Another doctor was somewhat more sceptical, having dissected one of the rabbits and discovered grass inside.
Medical opinion was divided - until a man was caught sneaking a rabbit into Mrs Toft's room.
She was eventually forced to admit she had manually inserted the dead rabbits, and then allowed them to be removed as if she were giving birth. Mary Toft was later charged with fraud and imprisoned. After a few months in jail she returned to relative obscurity.
The King's doctor met an unhappy end after being convinced by the scam. He had published an excited pamphlet about the extraordinary phenomena called A Short Narrative of an Extraordinary Delivery of Rabbets, just four days before Toft's confession. His career never recovered and he died a pauper. Satirical artist William Hogarth lampooned the credulity of the so-called medical professionals in one of his prints, shown above.
Further reading
Links to external websites are not maintained by Bite Sized Britain. They are provided to give users access to additional information. Bite Sized Britain is not responsible for the content of these external websites.