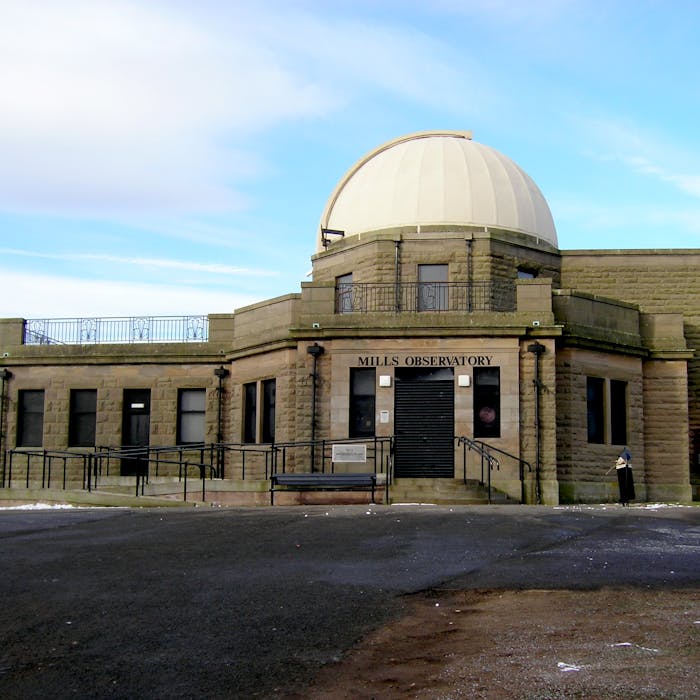 Mills Observatory, Dundee
The Mills Observatory in Dundee is Britain's first purpose-built public observatory. Built in 1935, the observatory is classically styled in sandstone and has a distinctive 7m dome, which houses a Victorian refracting telescope, a small planetarium, and display areas. The dome is one of two made from papier-mâché to survive in the UK.
Mills Observatory is in a beautiful woodland setting on the summit of Balgay Hill, with treetop views across the river Tay. It remains open to the public, with free admission for most displays and regular stargazing evenings.
The existence of the observatory is due to John Mills, a manufacturer of linen and twine in Victorian Dundee. He was also a keen astronomer.
As a young man, Mills had been greatly influenced by the Reverend Thomas Dick, philosopher and author of a number of books on Astronomy and Christian Philosophy. Dr Dick hoped to harmonise science and religion, believing that a study of the stars and heavens was a way of appreciating the divine creativity of God. He advocated that every city should have public parks, public libraries and a public observatory.
John Mills built a private observatory of his own (no longer in existence), but when he died left a legacy for a public observatory to be built in Dundee. For a time the council weren't quite sure what to do with this legacy, but the Mills Observatory was finally built in 1935.
The main telescope is a 400mm (16 inch) Dobsonian reflector. It provides spectacular views of the Moon and planets and breathtaking views of deep space objects. The main telescope used to be a 250mm (10 inch) refractor built by Thomas Cooke of York in 1871. Due to its age and size this telescope will only be used on special occasions.
When the Mills Observatory opened on 28 October 1935, it originally housed a 450mm (18 inch) reflecting telescope, constructed by the Newcastle-based company of Grubb Parsons. The remains of the original telescope can be seen in the upper display area of the Observatory.
The Observatory now also has a 12 inch Meade Schmidt Cassegrain reflector which is fully computerised and can find 30,000 objects in the sky and a solar telescope which allows viewers to observe the sun safely during the summer months. There is also a variety of smaller telescopes and binoculars that visitors can use from the Mills Observatory's viewing balcony or the car park.
Further reading
Links to external websites are not maintained by Bite Sized Britain. They are provided to give users access to additional information. Bite Sized Britain is not responsible for the content of these external websites.