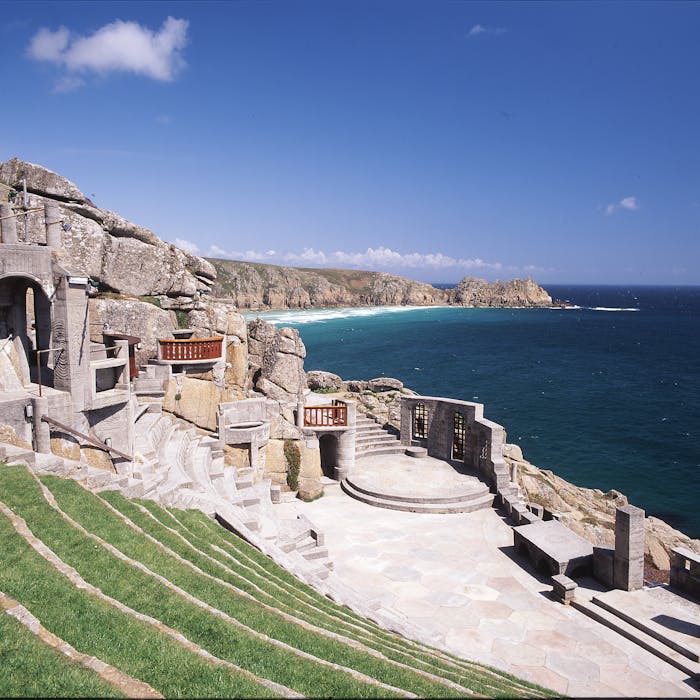 The Minack - an open air theatre built on a Cornish sea cliff
The dream of a determined woman, the Minack Theatre is one of the most picturesque performance sites in the world. Perched on the cliffs on a headland near Land's End in Cornwall, it was built largely with hand tools, and was the life's work of its creator.
Born in 1893, Rowena Cade bought the Minack headland near Land's End in the 1920s for £100. She had a house built there, and along with friends and family, staged open air performances of A Midsummer Night's Dream in the grounds. After two successful summers, the players decided to perform The Tempest. Cade resolved to build a permanent open air theatre on the rocky outcrop next to her garden, where performances could take place against the dramatic backdrop of the Atlantic Ocean.
Despite being in an impractical location, Cade and two other builders hauled granite and timber up from the beach below and down through her garden to build the Minack Theatre. Though World War II disrupted their efforts, Cade and her helpers continued to make annual improvements to the theatre until she died in 1983.
Minack theatre is currently used from Easter to September for a full summer season of plays and music, produced by companies from all over the UK and those visiting from the USA. The theatre is open for visitors throughout the rest of the year to enjoy the setting and views, and Christmas events are usually also held.
Further reading
Links to external websites are not maintained by Bite Sized Britain. They are provided to give users access to additional information. Bite Sized Britain is not responsible for the content of these external websites.