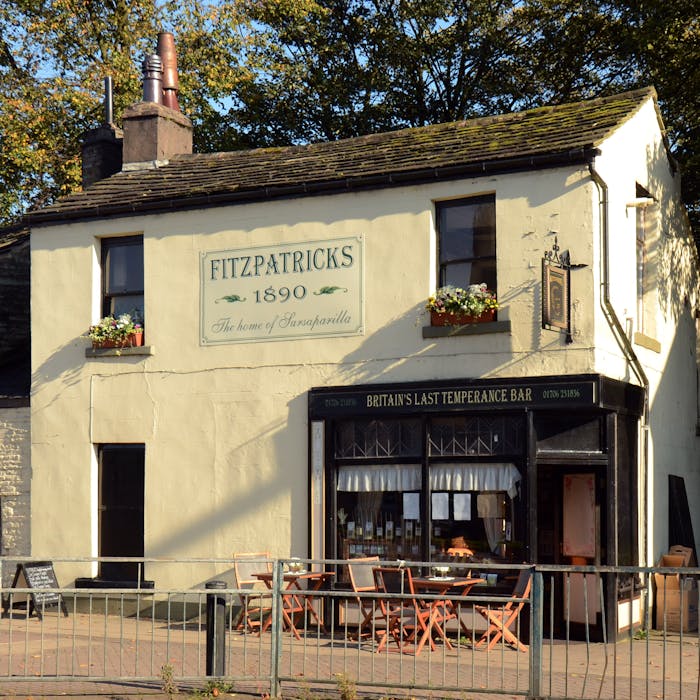 Mr Fitzpatrick's Temperance Bar - still keeping Rawtenstall sober
Mr Fitzpatrick's Temperance Bar is the last survivor of the temperance movement that swept through Britain near the end of the 1800s. It still serves up herbal drinks and healthy remedies in the Lancashire mill town of Rawtenstall, but definitely no alcohol.
The quaint white storefront premises first opened its doors in 1890 as part of a surge of dozens of Mr Fitzpatrick's temperance bars springing up in the area. Mr Fitzpatrick's was inspired by the Methodist-backed Temperance Movement that sought to spread the gospel of moderation within the seemingly disastrous culture of drinking that prevailed at the time. To this end, Mr Fitzpatrick's and other tonic bars like it sold herbal drinks ranging from ginger beer and sarsaparilla to more exotic draughts like blood tonic and dandelion and burdock soda.
The Fitzpatricks came to Lancashire from Ireland in the 1880s. With a tradition of herbalists, they built a family-run chain of shops and bars throughout Lancashire - peaking at 24 outlets.
Unfortunately the allure of alcohol proved too much for the movement, and almost all the temperance bars were closed down over the years apart from the Rawtenstall Mr Fitzpatrick's bar which continued to thrive thanks to a devoted customer base.
Today, Mr Fitzpatrick's continues to sell its imaginative non-alcoholic drinks and has seen an increase in business in recent years. Many concoctions are from the original 1836 recipe book of founder Julia Fitzpatrick in Dublin. The drinks are also increasingly available to purchase from otger shops.
Further reading
Links to external websites are not maintained by Bite Sized Britain. They are provided to give users access to additional information. Bite Sized Britain is not responsible for the content of these external websites.