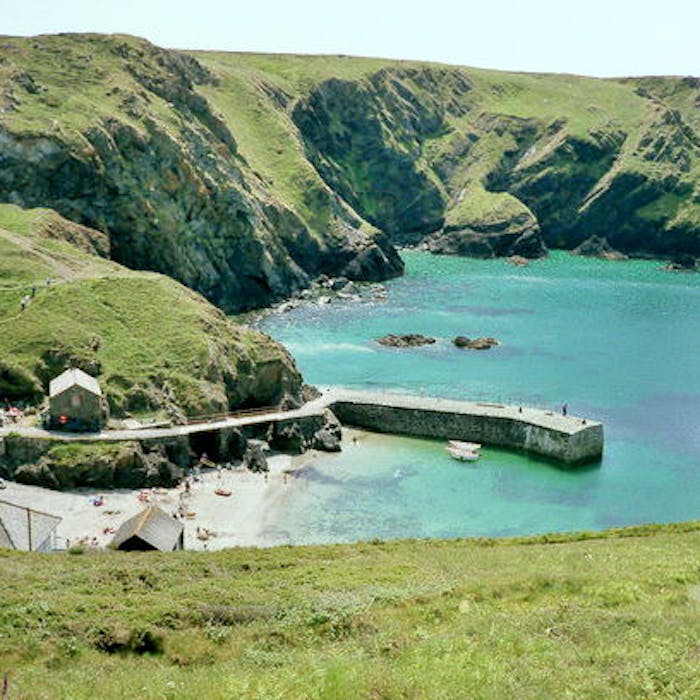 Mullion Cove - scenic harbour on the stormy Lizard coast
Mullion Cove is a picturesque harbour with a small fishing fleet on the west coast of the Lizard Peninsula in south Cornwall within an Area of Outstanding Natural Beauty. The Cove is accessible by road from Mullion village, 1 mile away, and also lies on the popular South West coast path.
In 1937, a 2-mile stretch of the Cornish coast from Mullion Cove to Predannack was protected for the nation with the help of the National Trust, and the Council for the Preservation of Rural England (later to become the Campaign for the Protection of Rural England).
Beyond the granite harbour wall of the cove are towering cliffs, and just offshore are a series of intriguingly shaped small islands. The largest of these is the trefoil shaped Mullion Island, which is the result of volcanic activity - anr example of the Lizard Peninsula's unusual geology.
The island and cliffs are a well known spot for breeding seabirds.
The harbour was built in the 1890s to protect the small fishing boats, and the thick walls reflect the area's stormy weather. Not many harbours in Cornwall face the full fury of the Atlantic storms quite like Mullion. The cove was originally home to a small pilchard-fishing fleet and the old pilchard cellar still remains on the quayside.
From the late 19th century, Mullion Cove became popular with tourists, and artists could often be seen with their paints and easels set up on the cliffs or in the Cove at low tide. Three hotels were built in the area from 1889-99. Two remain in operation and the other is now a care home.
Mullion Cove is owned by the National Trust, and under its care, the area retains much of its original charm. A few boats still work from the harbour and there is a little shop where snacks can be purchased.
Further reading
Links to external websites are not maintained by Bite Sized Britain. They are provided to give users access to additional information. Bite Sized Britain is not responsible for the content of these external websites.