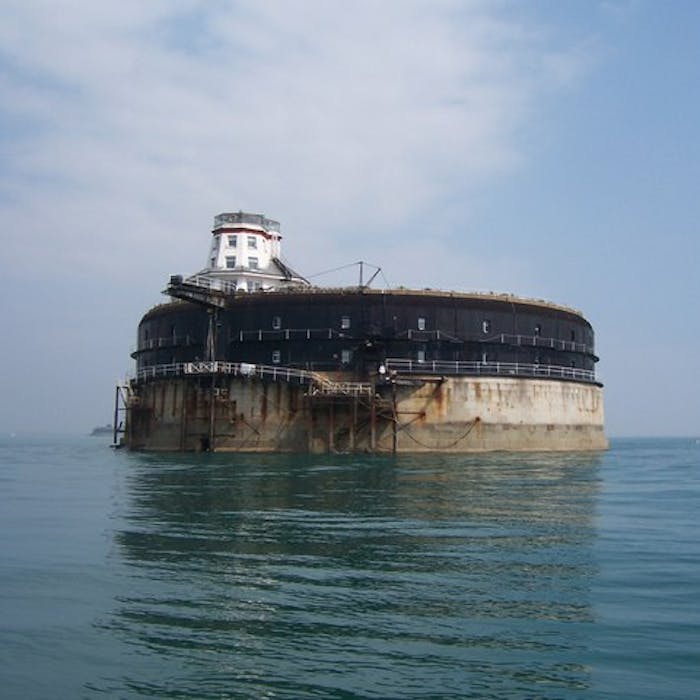 No Man's Fort - a suitable spot for a Bond villain's lair
No Man's Fort is a 23-bedroom luxury island retreat off the coast of Portsmouth. Built as a defensive fort by the Victorians, it is now a luxury hotel with a spa, restaurants, helipad, and events space.
The sea fort is one of the Palmerston Forts built after the recommendations of the 1859 Royal Commission. The most expensive and extensive fortifications ever built in peacetime, the Palmerston Forts, which include No Man's Land, Spitbank Fort, St. Helen's Fort, and Horse Sand Fort, were outdated by the time they were completed.
No Man's Fort is 200 feet in diameter, and lies 1.4 miles off the coast of the Isle of Wight.
The artificial island was intended to host 80 troops and 49 cannons. The sunken centre of the circular fort originally provided protection from the elements as well as a freshwater supply from a well dug into the seabed. Although it never saw action against the French, it served as a defence station against submarine attack in WWI and held anti-aircraft guns in WWII.
A 2020 report stated that during the war "the forts were used to defend the Portsmouth dockyards. Life on site was grim; those serving were deliberately chosen for their inability to swim, to avoid any attempt to escape".
The fort was decommissioned in the 1950s and sold by the Ministry of Defence in 1963.
In the 1990s it was transformed into a luxury hotel, replete with two helipads, 21 bedrooms, a roof garden, and restaurants. The lowered centre was glassed in as an atrium for the heated pool.
Unfortunately the remote hotel never really took off, and in 2004 the developer Harmesh Pooni bought for it £6 million, with the intention of renting it out for special occasions. Unfortunately for Pooni's plans, the contaminated water in the hotel pool caused an outbreak of Legionnaires' disease, and his business venture failed. In 2007 it was put up for sale for £4 million, but was not sold (although there were rumours that Duran Duran's Simon Le Bon was considering purchasing it as a hideaway).
Faced with financial troubles and the possibility of losing the island to creditors, Harmesh Pooni packed up his bags, grabbed the keys, and locked himself into the fortress. Mr. Pooni was finally evicted in early 2009 and the fort was sold again and run, once more, as a luxury hotel..
However, in 2021 it was back on the market again and it seems to be currently closed to visitors.
Further reading
Links to external websites are not maintained by Bite Sized Britain. They are provided to give users access to additional information. Bite Sized Britain is not responsible for the content of these external websites.