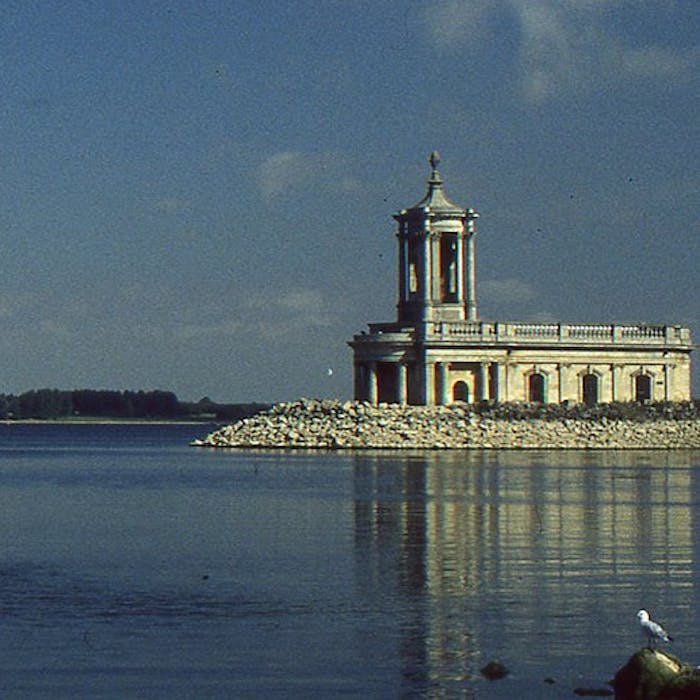 Normanton Church - floating on water
If you visit the village of Normanton on the eastern shore of Rutland Water, you will see a very odd sight. The church there appears to be floating on the surface of the reservoir.
Normanton Church (officially St Matthew's Church) was built in the 1760s on a foundation from the 14th century.
It has had major renovations and augmentations throughout the centuries, the most recent being in 1964. However, it was nearly destroyed in 1970 when bureaucrats planned to flood the area and create a reservoir - Rutland Water. This would have submerged much of the church.
Due to a huge public outcry, an alternate plan was devised. The church's floor was raised by 60 feet, and a causeway was created from the church's "island" to the lake shore so people could still access the sanctuary when the reservoir's water was high.
The church, which is now deconsecrated, became a private parish for the Heathcoate family, who built their estate in Normanton in the 18th century. It is now a popular location for weddings, concerts, and other social events. It offers a great setting for such events, for when the water is high, the church often seems to be floating on or above the water. When the water is low, a different illusion presents itself, as the church almost appears to be sinking under its own weight.
The water surrounding Normanton Church is now one of Europe's largest human-made lakes and has been dedicated as a Site of Special Scientific Interest.
Further reading
Links to external websites are not maintained by Bite Sized Britain. They are provided to give users access to additional information. Bite Sized Britain is not responsible for the content of these external websites.