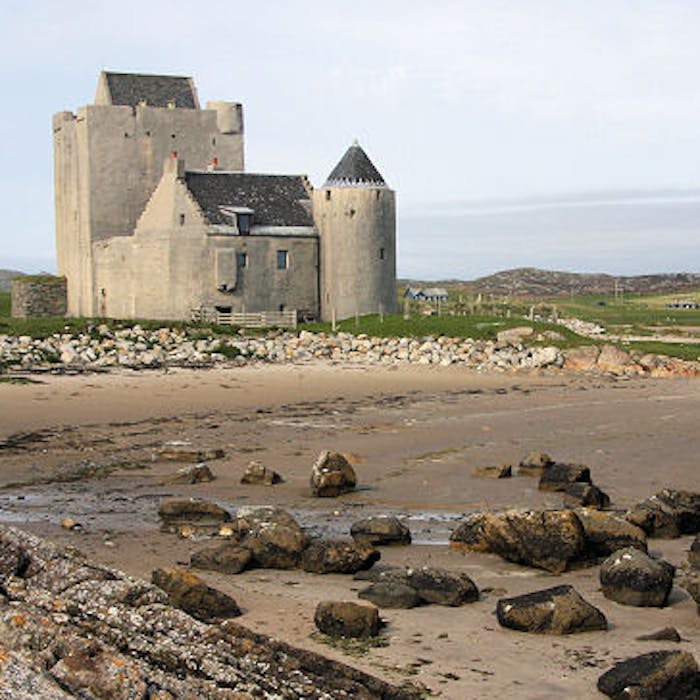 Old Breachacha Castle - stern Hebridean fortress
Old Breachacha Castle is a 15th-century stronghold on the shore of Loch Breachacha, on the Inner Hebridean island of Coll in Scotland. Nearby is the "New" Breachacha Castle, built in 1750.
On the edge of the bay with a beautiful sandy beach, Old Breachacha Castle consists of a square tower of four storeys and a gabled garret within a later parapet. It stands at one corner of a courtyard enclosed by a curtain wall, with a round tower at one corner and a range of buildings.
Old Breachacha Castle was a stronghold of the Macleans of Coll, who were granted the island in 1431.
The castle was superseded by a new dwelling in 1750 but continued to be occupied for a time. It fell into a ruinous state only in the mid-19th century.
It was restored to liveable condition in the 1960s.
New Breachacha Castle was built nearby in 1750 and is a mansion with lower flanking wings and small turrets. Samuel Johnson and James Boswell stayed here on their tour of the Hebrides, and were taken to see parts of the old castle. New Breachacha Castle is now a luxury holiday rental.
All in all, the presence of two imposing buildings near the water and close together in this isolated and treeless wilderness is wonderfully atmospheric.
Further reading
Image by Bob Jones, Commons.wikimedia.org
Links to external websites are not maintained by Bite Sized Britain. They are provided to give users access to additional information. Bite Sized Britain is not responsible for the content of these external websites.