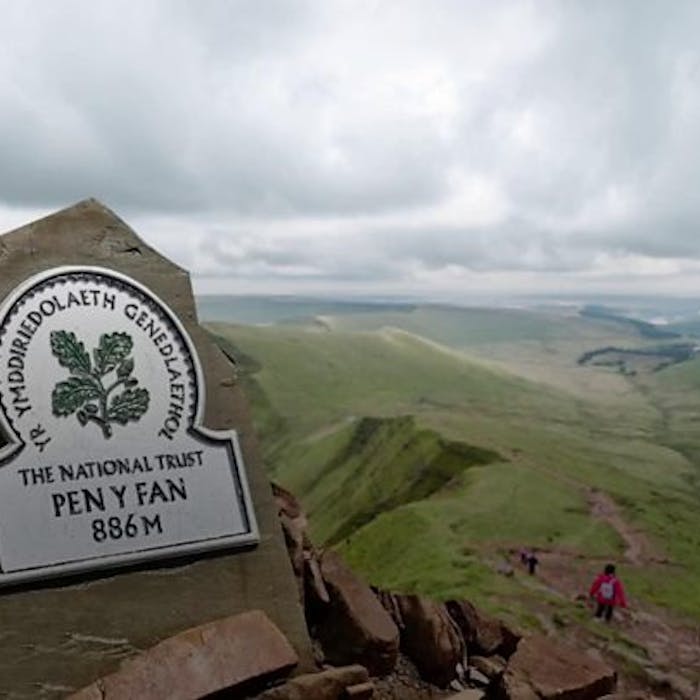 Pen-y-Fan, Brecon Beacons - a view worth the climb!
Pen y Fan is the highest peak in south Wales, situated in the Brecon Beacons National Park. At 886 metres (2,907 ft) above sea-level, it is also the highest peak in southern Britain (ie south of Cadair Idris in Snowdonia).
Pen Y Fan is formed from layer upon layer of Old Red Sandstone, a thick sequence of sandstones, mudstones and siltstones often referred to familiarly by geologists as 'the ORS'. 
Few of the many thousands who come to visit each year will miss the ripples preserved in the exposed bedrock of this iconic mountain's near-flat triangular summit plateau. This summit area, like that of its similar, but slightly lower, near neighbour Corn Du which tops out at 873m or 2864 feet, is formed from the relatively erosion-resistant sandstones of the Plateau Beds. These rocks dating from around 370 million years ago are part of a thin late Devonian sequence which between them constitute the Upper ORS and which overlie a much thicker Lower ORS sequence. The Lower ORS coarsens upwards from the Raglan and St Maughans mudstones, which can be seen around Brecon, to the sandstones of the Senni and Brownstones formations which form the bulk of the local mountain massifs. 
The precipitous northeastern face of Pen y Fan is seen to advantage by walkers following the path from Cribyn to the east. 
A walk to the top of Pen y Fan is one of the most popular hikes in Wales. There are various routes up, including a very straight-forward gradual ascent and more challenging routes for the brave. On a clear day, the energetic are rewarded with views of the Bristol Channel, Gower Peninsula and the Cambrian and Black Mountains.
The mountain and surrounding area are owned by the National Trust. The peak is very popular with walkers, and is also used by the military as part of the selection process of the UK's Special Forces personnel. Three soldiers who died after collapsing on an exercise in July 2013 were believed to have been climbing the mountain while undergoing Special Air Service selection.
Further reading
Links to external websites are not maintained by Bite Sized Britain. They are provided to give users access to additional information. Bite Sized Britain is not responsible for the content of these external websites.