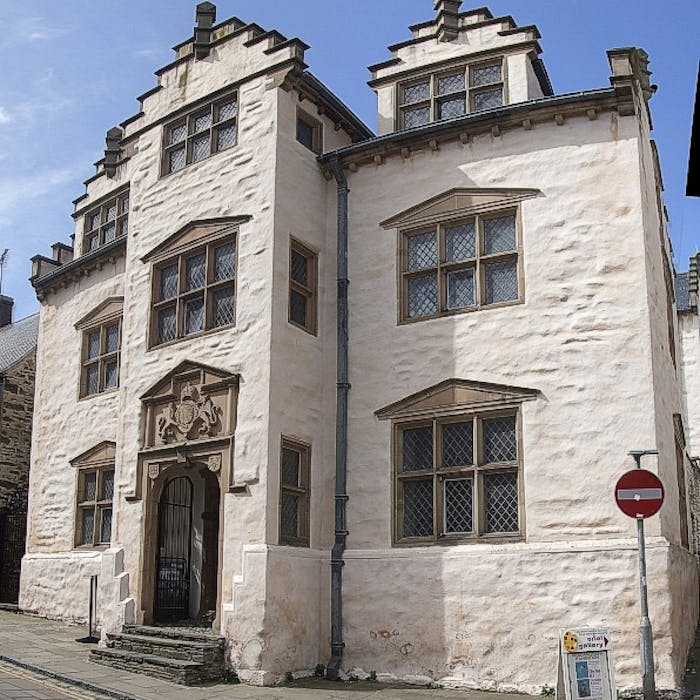 Plas Mawr, Conwy
Plas Mawr, or the Great Hall, is said to be the finest surviving Elizabethan town house anywhere in Britain.
Plas Mawr was built by Robert Wynn, a member of the local gentry.
When his first wife died childless in 1586, Robert re-married and had seven children by his new wife in six years, even though he was probably at least in his sixties at the time. Anxious to make provision for his young family in the event of his death, he left complicated instructions in his will for the disbursement of his property and wealth. This resulted in a long legal case which effectively prevented any work or changes being made to the house for many decades.
As a result, Plas Mawr's Elizabethan style and structure survived unchanged, and the house is now considered an architectural gem, especially notable for its ornamental plasterwork and original furniture.
The Welsh heritage agency Cadw carried out a major restoration project on the house from 1993. Large parts of the property were restored as they might have appeared in 1665, assisted by the record of Robert Wynn the younger's will. The restoration included installing original and replica interior furnishings, with further work in 2006 to restore the gardens, again attempting to replicate the style prevalent in 1665.
The gatehouse of Plas Mawr is on Conwy's High Street. Though imposing, it gives little idea of the extent of the house beyond, as you rise via a series of terraces to explore 17 impressive rooms.
You won't have to look far for clues about its creator. Wynn's initials – R.W. – can be found all over Plas Mawr's vividly painted ornamental plasterwork.
The house is said to be haunted by the ghost of a doctor who disappeared from a locked room.
Further reading
Links to external websites are not maintained by Bite Sized Britain. They are provided to give users access to additional information. Bite Sized Britain is not responsible for the content of these external websites.