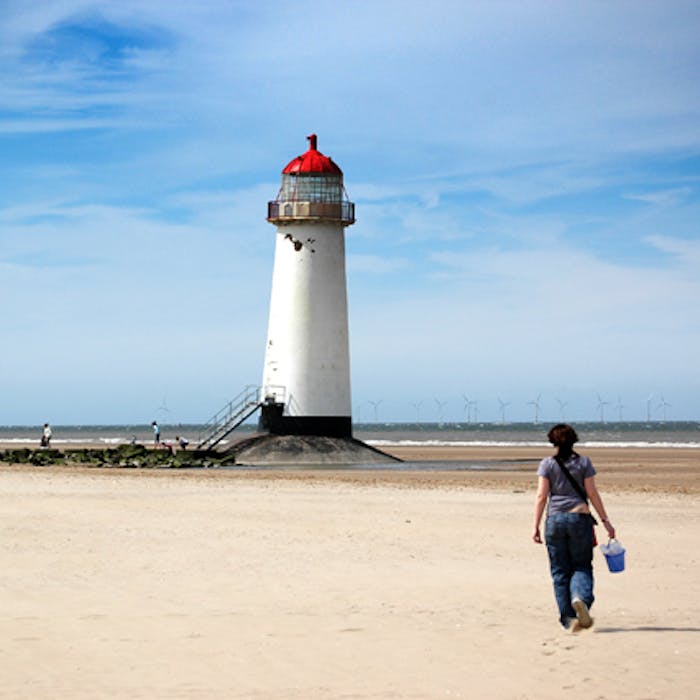 Point of Ayr Lighthouse
The Point of Ayr Lighthouse, also known as the Talacre Lighthouse, was built in 1776 to protect shipping along the Welsh coast. Long since decommissioned, it is said to be haunted by a ghost called Raymond, the last lighthouse keeper.
The grade II listed Point of Ayr Lighthouse is located on Talacre Beach in the village of Talacre, Flintshire, Wales. It is an old guide tower for ships coming to port along the north coast of Wales. It was built in 1776 in response to shipwrecks in the area, particularly the loss of two Dublin ferries on which more than 200 people died.
The lighthouse was abandoned in 1844 and is now privately owned. At 60 feet tall, the structure has been damaged by storms over the years, and is only accessible at low tide, when the waters recede, clearing a footpath to the tower. The tower and the huge low-tide beach are known for having an eerie atmosphere.
During nocturnal visits, some people have seen a man dressed in old-fashioned clothes on the top of the lighthouse, looking at the sea.
A team of paranormal investigators supposedly made contact with the ghost, called Raymond, a lighthouse keeper who died of a fever while manning the light.
This story inspired the owners to place a seven foot stainless steel 'lighthouse keeper' sculpture by a local artist on the lighthouse balcony between 2009 and 2012, when planning permission for the sculpture expired.
The Lighthouse featured in the background in a 2011 TV advertisement by paint manufacturer Dulux. The advertisement marked the 50th anniversary of the first appearance of their Old English Sheepdog mascot.
Further reading
Links to external websites are not maintained by Bite Sized Britain. They are provided to give users access to additional information. Bite Sized Britain is not responsible for the content of these external websites.