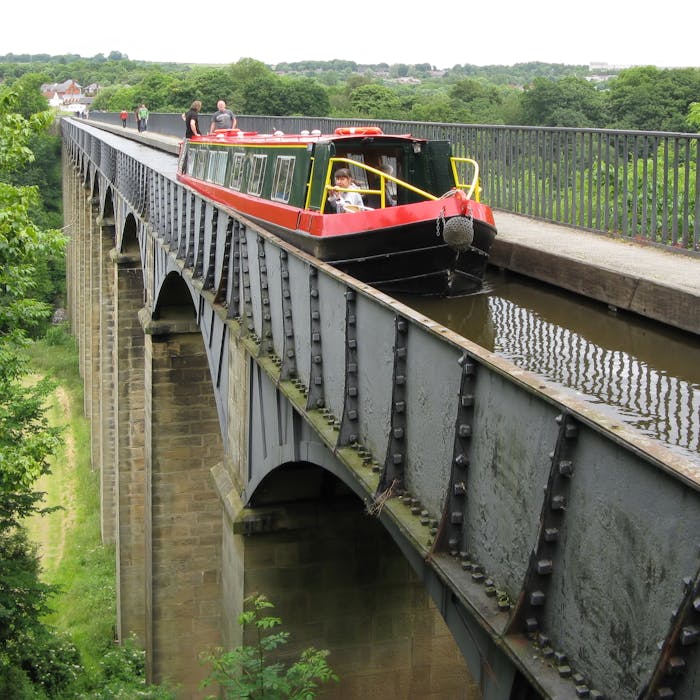 Pontcysyllte Aqueduct - dramatic pioneering canal crossing of the River Dee
The Pontcysyllte Aqueduct is an impressive navigable water course that carries the Llangollen Canal across the River Dee in the Vale of Llangollen in northeast Wales. The 18-arched stone and cast iron structure was completed in 1805 having taken ten years to design and build, to connect local industries to the main British canal network.
Now a world heritage site described by UNESCO as 'a masterpiece of creative genius', the Aqueduct is the longest and highest aqueduct in the UK being 1,007ft (307m) long and 126ft (38m) above the river. Designed by engineer Thomas Telford, it was one of his first major projects. The first 11 miles of the Llangollen Canal is an outstanding piece of industrial and engineering heritage comprising of embankments, tunnels, viaducts and aqueducts, including 32 other listed structures.
The Pontcysyllte Aqueduct project was viewed as ambitious and ground-breaking when work started in 1795. Until then, aqueducts had been masonry structures with a waterway contained by lining the stone basin with clay. They were rarely higher than 35ft (10m) above the river or road below.
Telford's plans used a cast-iron trough to carry water and boats across the valley. The structure was to be more than three times the height of existing aqueducts.
The aqueduct was built during the 20 years of so-called 'canal mania' between 1790 and 1810. Over 1,180 miles (1,900km) of canal were completed over this period.
The aqueduct and its canal system was needed to connect the industries of north east Wales with the canal network leading south to the English midlands. The crossing made it easier for goods to get from Wales to England. It helped boost the local economy and opened the region to new markets.
Though the canal aqueduct has lost its original industrial purpose, the Llangollen canal has become one of the most popular inland cruising routes in the UK for narrow boat holidaymakers because of its aqueducts and scenery.
Every five years the aqueduct is closed and a plug pulled out to drain water into the river Dee below to allow maintenance of the trough.
Further reading
Links to external websites are not maintained by Bite Sized Britain. They are provided to give users access to additional information. Bite Sized Britain is not responsible for the content of these external websites.