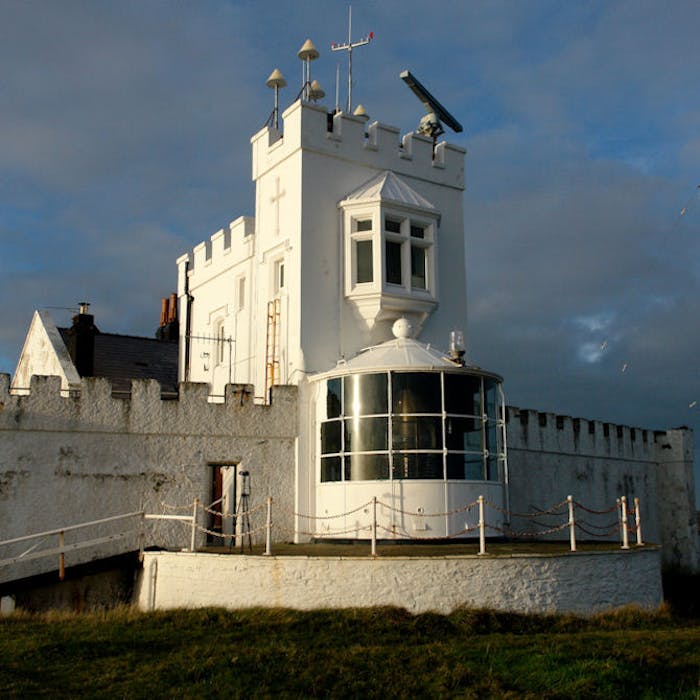 Port Lynas Lighthouse - protecting the approach to Liverpool
Point Lynas Lighthouse on the north coast of Anglesey in North Wales was built in 1835, replacing a lighted pilots' lookout established in 1766.
As early as 1766 the need was felt for a station on Anglesey where ships making for Liverpool could pick up pilots. The Liverpool Pilotage Service, after examining several sites, eventually chose Point Lynas. At first the early pilots used a farmhouse as their lookout post.
After 1779 they used two oil lamps with small reflectors set into a tower and showing in two directions.
The present unusual and distinctive lighthouse was built on the hilltop in 1835 by the Mersey Docks and Harbour Board at a cost of £1,165. Being on a high point, no high tower was needed. The lighthouse is a low castellated structure painted white with the round lens room at the base, connected to the seaward side of the building. The lantern is topped by a plain conical roof with a ball finial. The square tower above has a corbelled oriel window for the pilot's look-out. The building was designed by Jesse Hartley, engineer to the Mersey Docks and Harbour Board.
By 2001 the lights were fully automated, so no resident staff were needed. Whilst the light is retained in operational use, the building and associated lighthouse keepers cottages were sold by the Mersey Docks and Harbour Board. The lighthouse is now a private home and holiday let.
Further reading
Links to external websites are not maintained by Bite Sized Britain. They are provided to give users access to additional information. Bite Sized Britain is not responsible for the content of these external websites.