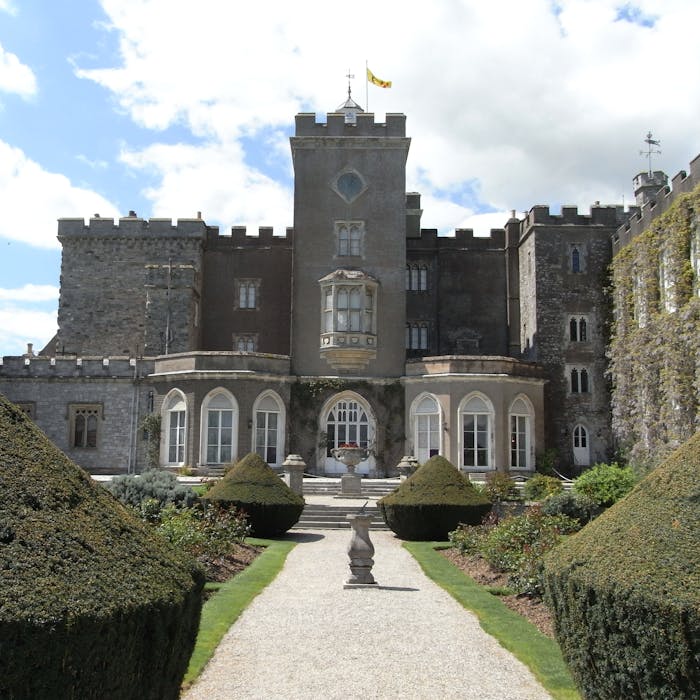 Powderham Castle
Powderham Castle is a fortified manor house in Devon, about 6 miles south of Exeter. It is a Grade I listed building, with the building and gardens open to the public.
Powderham Castle is situated on flat, formerly marshy ground on the west bank of the River Exe estuary. On the opposite side of the Exe is the small village of Lympstone. The castle was expanded and altered extensively in the 18th and 19th centuries, most notably by James Wyatt in the 1790s. The castle is the seat of the Courtenay family, Earls of Devon.
The core of the current building was originally constructed some time after 1390 by Sir Philip Courtenay. The interior is opulent, famed for its Marble Hall, beautiful blue-painted Staircase Hall (familiar to film fans as a setting in Remains of the Day), and spectacular Music Room, designed by James Wyatt in 1788 for the flamboyant 3rd Viscount of Devon, with an original Axminster carpet made in about 1798.
There are also various secret doors and passageways - including one disguised as a bookcase! Plus a secret window.
The Castle was first opened to visitors in 1959, since then more than a million people have been through the doors. In 2018 the Castle opened up new rooms, and previous private family only areas as part of two new guided tours, the first time the tours have been altered since opening to the public.
Powderham Castle is surrounded by a Deer Park, home to 600 Fallow deer, and gardens - including Rose Garden, American Garden and the Secret Garden.
The castle can be seen by passengers on the main GWR line from Exeter to Plymouth - a very scenic stretch running alongside the Exe estuary.
Further reading
Links to external websites are not maintained by Bite Sized Britain. They are provided to give users access to additional information. Bite Sized Britain is not responsible for the content of these external websites.