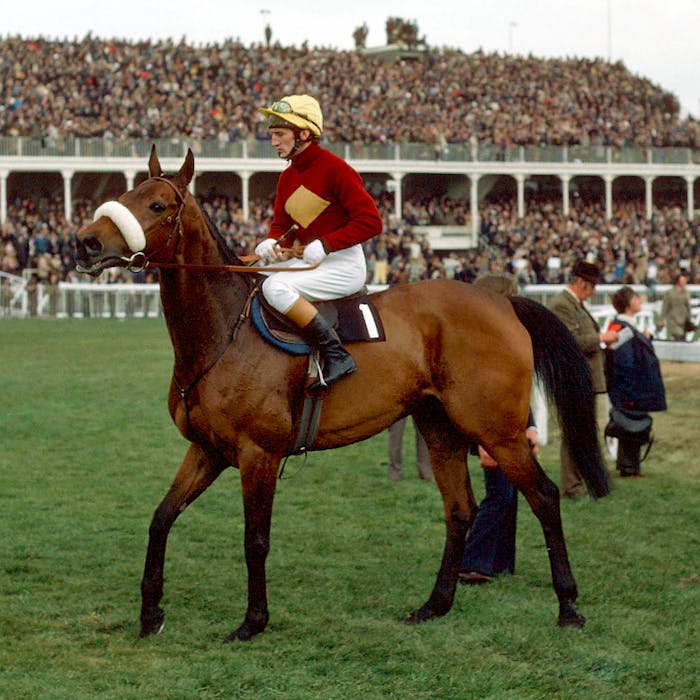 Red Rum - a lame horse who became an equine superstar
Red Rum was a champion Thoroughbred steeplechaser. He is the only horse in the history of the Grand National to win the race three times and on the two occasions that he ran and did not win he came second.
The Grand National is a notoriously difficult and gruelling race for a horse, and Red Rum was renowned for his jumping ability, having not fallen in 100 races.
Red Rum was bred at Rossenarra stud in Kells, County Kilkenny, Ireland. He was born in 1965 and given the name Red Rum from the last three letters of the names of his dam and sire, Mared and Quorum.
Red Rum suffered from a foot disease. After being passed from training yard to training yard, Southport car dealer Ginger McCain bought him for his client Noel le Mare and famously trained the horse on the sands at Southport, England. Galloping through sea water seemed highly beneficial to Red Rum's hooves. McCain reportedly took Red Rum for a therapeutic swim in the sea off Southport before his first National appearances to help treat the horse's pedal osteitis, a debilitating, incurable bone disease in his hoof.
Incidently, the comedian Lee Mack, then a stable boy for Ginger McCain in Southport, had his first riding lesson on Red Rum, having picked him at random.
In 1973, ridden by Brian Fletcher, Red Rum won his first Grand National by spurting ahead in the last 100 yards of the course to pass Crisp, who had held the lead during most of the race, and beating him by 3/4 of a length in the record time of 9:01.9. This is often considered one of the greatest Grand Nationals in history, and Red Rum's exciting performance is credited with helping to revive the fortunes of the race in the public eye.
The next year, with 11-to-1 odds against repeating his victory, Red Rum outdistanced his nearest rival, L'Escargot, by 7 lengths. He was the only horse to win two times in a row since Reynoldstown won in 1935 and 1936. Only three weeks later, ridden by Fletcher, he entered and won the Scottish Grand National and remains the only horse to win both races in the same season.
Red Rum came second at the Grand National in 1975 and 1976. The following year, Tommy Stack rode the 12-year-old Red Rum to his record third Grand National triumph, in what is regarded as one of the greatest moments in horse racing history.
Following a canter at Aintree Racecourse the day before the 1978 Grand National Red Rum was retired, due to continued problems with his feet. The news of Red Rum's retirement was the lead story on that night's 9 O'Clock News on BBC1 and was also front page news of the following morning's newspapers.
Whilst still racing, Red Rum had become a celebrity. He helped open the Steeplechase roller-coaster at Blackpool Pleasure Beach in 1977, and also switched on the Blackpool Illuminations.
He was even a studio guest at the BBC Sports Personality of the Year, where he captivated an entire nation by recognising the voice of his rider Tommy Stack, who was appearing via video link from another location.
After his retirement, Red Rum became a regular at opening fetes and betting shops and taking part in charity functions.
"When Red Rum went for a walk round town he would go sideways down the high street because he knew people were watching him," McCain said. "He was a big show-off."
Red Rum died in October 1995, aged 30, and was buried at the winning post at Aintree.
Further reading
Links to external websites are not maintained by Bite Sized Britain. They are provided to give users access to additional information. Bite Sized Britain is not responsible for the content of these external websites.