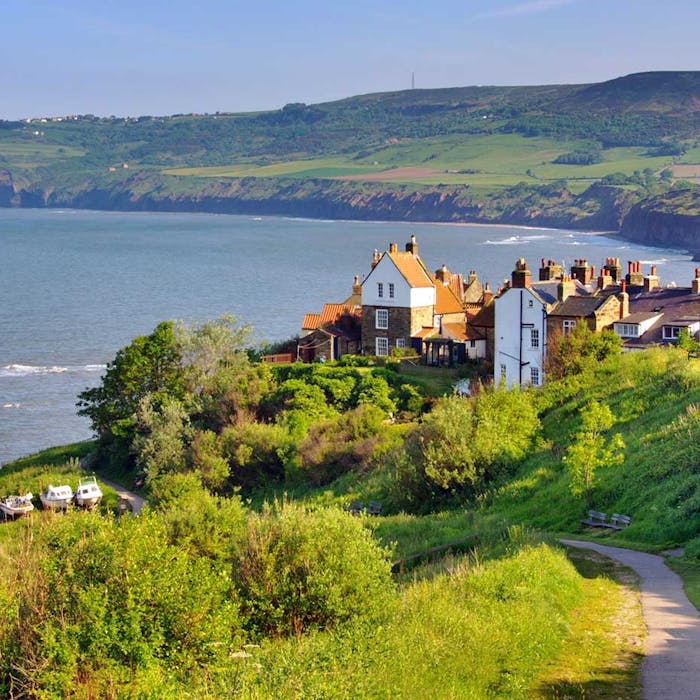 Robin Hood's Bay - Yorkshire fishing and smuggling haven
Robin Hood's Bay is the home of a picturesque old fishing village on the Heritage Coast of the North York Moors. It ihas a traditional sandy beach, as well as rock pools to explore and ancient fossils to discover. Wandering through its narrow, twisting cobbled streets and alleyways, you can easily imagine the sailors and fishermen, smugglers and press gangs that walked these streets centuries ago.
The Bay lies between Whitby and Scarborough, lying within the North York Moors National Park and Heritage Coast, where there are many stunning coastal and country walks, cycle-paths and bridleways. It is on the Cleveland Way national trail and also the end point of Wainwright's Coast to Coast route across to the West Coast.
The origin of the name is uncertain, but an English ballad and legend tell a story of the good man Robin Hood of Sherwood Forest fame encountering French pirates who came to pillage the fishermen's boats and the northeast coast. The pirates surrendered and Robin Hood returned the loot to the poor people in the village that was since named in his honour.
Robin Hood's Bay is located between a fissure between two steep cliffs. The village houses were built mostly of sandstone with red-tiled roofs. The main street is New Road, which descends from the cliff top where the manor-house, the newer houses and the church of St Stephen stand. It passes through the village crossing the King's Beck and reaches the beach by a cobbled slipway known as Wayfoot where the beck discharges onto the beach.
The town, which consists of a maze of tiny streets, has a tradition of smuggling, and there is reputed to be a network of subterranean passageways linking the houses. During the late 18th century smuggling was rife on the Yorkshire coast. Vessels from the continent brought contraband which was distributed by contacts on land and the operations were financed by syndicates who made profits without the risks taken by the seamen and the villagers. Tea, gin, rum, brandy and tobacco were among the contraband smuggled into Yorkshire from the Netherlands and France to avoid the duty.
In 1773 two excise cutters, the Mermaid and the Eagle, were outgunned and chased out of the bay by three smuggling vessels, a schooner and two shallops. A pitched battle between smugglers and excise men took place in the dock over 200 casks of brandy and geneva (gin) and 15 bags of tea in 1779.
Further reading
Links to external websites are not maintained by Bite Sized Britain. They are provided to give users access to additional information. Bite Sized Britain is not responsible for the content of these external websites.