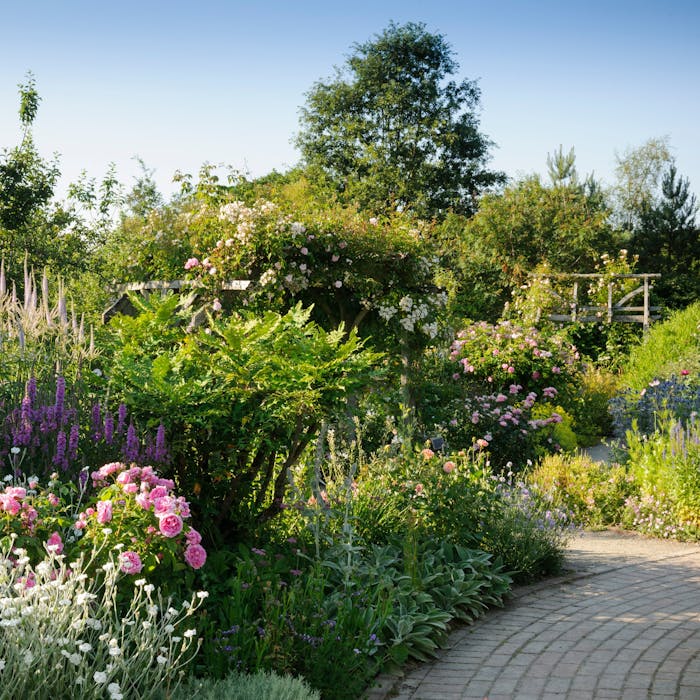 RHS Rosemoor - 65 acres of glorious greenery in Devon
RHS Garden Rosemoor is a public display garden run by the Royal Horticultural Society in north Devon, close to Great Torrington. Features include a rose garden with about 2,000 rose plants; an arboretum; herb, fruit and vegetable gardens; and an alpine house.
Rosemoor is surrounded by over 100 acres (40 ha) of woodland with the River Torridge running along the western border.
The original garden, and adjoining pastureland, was given to the RHS in 1988 by Lady Anne Berry. The charity has since expanded the garden.
Lady Anne was three when in 1923 her parents bought the house that sits at the far end of the original garden near Torrington in North Devon. Initially it was used as a holiday fishing lodge but she moved in permanently with her husband Eric Palmer in 1947.
It wasn't until 1959, following a visit to Spain that she caught the gardening bug - all thanks to a meeting with the famous plantsman Collingwood Ingram. Anne returned to England and spent the next 30 years turning her garden into a centrepiece for her ever increasing and much respected plant collection.
The garden was first opened to the public in 1967, under the National Gardens Scheme. A small nursery was started in 1979. Both the garden and nursery were noted for rare and unusual plants. By the 1980s, the garden was attracting a significant number of visitors.
After her husband Eric died, and when neither of her sons were keen on taking on the garden, Lady Anne searched for someone to pass it on to and in 1988 made the decision to give it to the RHS.
Along with her eight-acre garden, she donated the house and 32 acres of pastureland. Since then, the RHS has bought large areas of woodland bordering both Lady Anne's original garden and the former pasture.
Today Rosemoor Garden covers 65 acres (26 ha) and it includes a visitor centre, a plant centre, a shop, a restaurant and the Wisteria tearoom.
The garden itself is noted for its very English cottage garden style, and a profusion of roses throughout the summer.
Further reading
Links to external websites are not maintained by Bite Sized Britain. They are provided to give users access to additional information. Bite Sized Britain is not responsible for the content of these external websites.