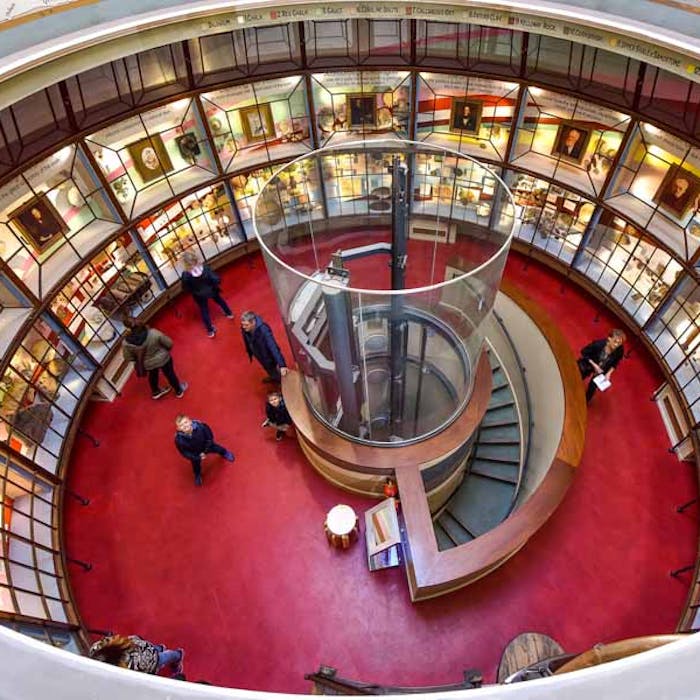 Scarborough's Rotunda Museum - unique design to house Jurassic fossils
The unique Jurassic and Cretaceous geology of the Yorkshire Coast brought 'Father of English Geology', William Smith, to Scarborough in the 19th century, and inspired him to design the impressive Rotunda Museum, which opened in 1829.
Smith changed the world with his discoveries from the area, and the museum has been a focal point for geology and local history enthusiasts ever since.
The Rotunda Museum is one of the oldest purpose-built museums still in use in the United Kingdom. The curved grade II* listed building houses one of the foremost collections of Jurassic geology in the country, and is described as the finest surviving purpose-built museum of its age. 
Smith's pioneering work established that geological strata could be identified and correlated using the fossils they contain. He came to Scarborough after his release from debtors' prison, and the dramatic Jurassic coastline of Yorkshire offered him an exciting area to explore.
Sir John Johnstone was an intellectual leader in Scarborough at the time, and became a staunch supporter of Smith and his ideas. He became Smith's patron, and in his role as President of the Scarborough Philosophical Society, led it toraise the money to build the Rotunda, which was based upon Smith's ideas as to the Museum's design.
Johnstone donated the Hackness stone of which the Rotunda Museum is built. Smith had apparently seen a rotunda in London and instructed the architect, Richard Sharp of York, to follow that design. The fossils and rocks displayed were arranged by Smith in the order in which they occurred, with the youngest in the cases at the top and the oldest at the bottom, reflecting the order of rocks on the Yorkshire coast. A section of the rocks on the coast was drawn around the inside of the dome of the building by Smith's nephew, another geologist, John Phillips. The two wings were added to the building in 1860.
Amongst over 5,500 fossils and 3,000 minerals, the key strengths of the Scarborough collection are numerous type specimens, which were the first of their kind ever to be described, including Middle Jurassic plants and Cretaceous fossils from the Speeton Clay and the Chalk. There are items from the Ice Age such as mammoth teeth and a pristine Carboniferous plant collection. 
The museum was refurbished, and reopened in 2008, to make it a gateway to the area's Dinosaur Coast, and to pay tribute to William Smith.
Further reading
Links to external websites are not maintained by Bite Sized Britain. They are provided to give users access to additional information. Bite Sized Britain is not responsible for the content of these external websites.