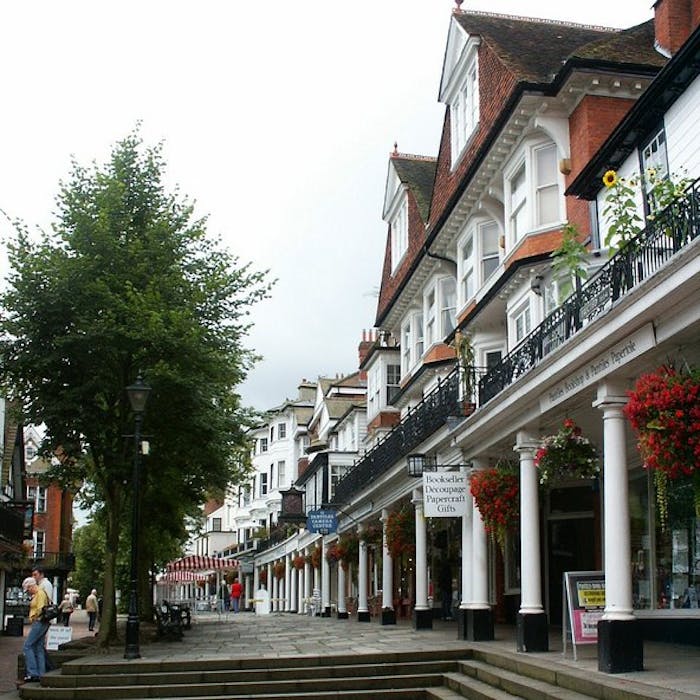 Royal Tunbridge Wells - much mocked as the home of the mythic conservative surburbanite
Tunbridge Wells is a spa town in Kent, England. It continues to be popular due to its pleasant architecture, the many rural attractions nearby, and its good train links to London. It makes a good base for explorations of the High Weald.
Royal Tunbridge Wells is 30 miles southeast of central London. The town was a spa in the Restoration and a fashionable resort in the mid-1700s under Beau Nash when the Pantiles, and its chalybeate spring, attracted visitors who wished to take the waters.
Though its popularity as a spa town waned with the advent of sea bathing, the town still derives much of its income from tourism.
In 1606 Dudley North, a courtier to James I who was staying at a hunting lodge in Eridge in the hope that the country air might improve his ailing constitution, discovered a chalybeate spring (ie. iron-rich mineral water). He drank from the spring and, when his health improved, he became convinced that it had healing properties.
He persuaded his rich friends in London to try it, and by the time Queen Henrietta Maria, wife of King Charles I, visited in 1630 the area had established itself as a spa retreat.
Over time, lodging houses and places of fashionable entertainment were built such as coffee houses, gaming-rooms and an assembly room for dances and balls.
The cost of living was cheaper than in London but it was possible to get to London as stage coaches ran a reliable service from Tunbridge Wells to London with the journey only taking five hours!
The environment was a great asset to the town "romantic, rural, rugged with a vast variety of different views…."
The surrounding countryside was ideal for walks and rides and early guide books of the town described the country houses that could be visited in the area. High Rocks was a favourite attraction and a popular excursion.
Entertainment for residents and visitors took place on the Common including firework displays, cricket matches, archery and horse racing.
In 1909 King Edward VII officially recognised the popularity of Tunbridge Wells with its many royal and aristocratic visitors – including his mother, Queen Victoria – over the centuries by granting the town its "Royal" prefix.
The most well-known part of Tunbridge Wells is the Pantiles - a Georgian colonnade that leads from the chalybeate well.
The Pantiles now have a variety of specialist shops, art galleries, cafés, restaurants and bars, as well as a farmers market held outside every other Saturday. Throughout the summer jazz bands play outside on the bandstand, attracting hundreds of people.
Tunbridge Wells is also known for the phrase, oft used by comedians, "disgusted of Tunbridge Wells" meaning an outraged conservative sort of Home Counties person objecting ineffectually to modern ways and behaviour.
Legend has it that the term was first used in the early 1960's, when a cub reporter on a now defunct local newspaper, devoid of interesting copy for the letters page, submitted two letters of complaints themselves, and signed them "Disgusted of Tunbridge Wells".
Somehow the phrase was taken up by Private Eye and the BBC radio programme of the time 'I'm Sorry I'll Read that Again' and the town was stereotyped in the public imagination forever.
Further reading
Links to external websites are not maintained by Bite Sized Britain. They are provided to give users access to additional information. Bite Sized Britain is not responsible for the content of these external websites.