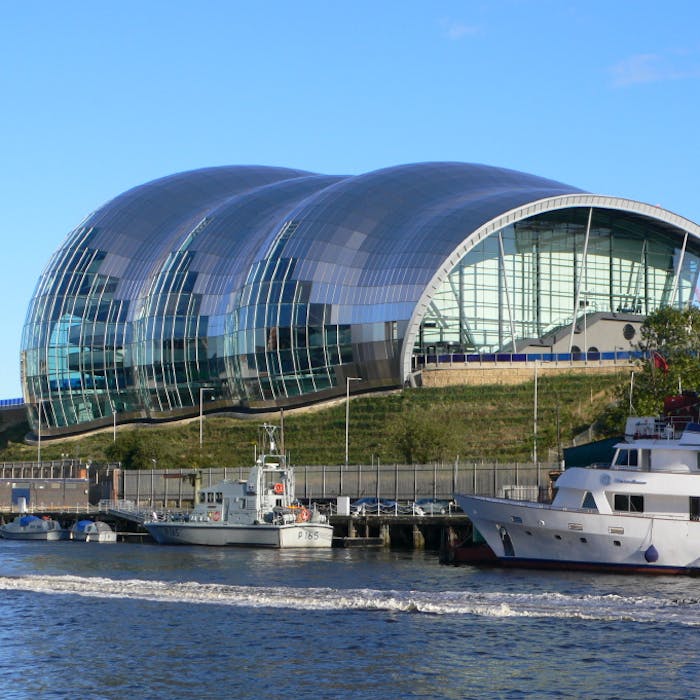 Sage Gateshead - acoustically impressive concert venue
Sage Gateshead is a concert venue and musical education centre in Gateshead on the south bank of the River Tyne. It opened in December 2004. Designed by renowned architects Foster + Partners, it is home to the Royal Northern Sinfonia, the UK's only full-time chamber orchestra.
Planning for the centre began in the early 1990s. The idea was to give Royal Northern Sinfonia a new concert hall, as a means of promulgating the North East region's traditional music. Planning and construction cost over £70 million, provided mainly by the National Lottery.
The building consists of a curved glass and stainless steel structure, a work commissioned from Foster + Partners following a design competition. The Design has gone on to win a number of awards, including the RIBA Inclusive Design Award and the Civic Trust Award. However, the building itself has had its detractors too, with some drawing comparisons with a large slug.
Sage Gateshead contains three performance spaces; a 1,700-seater, a 450-seater, and a smaller rehearsal and performance hall. These three buildings are insulated from each other, and a 'spongy' concrete mix was used in the construction, with a higher-than-usual air capacity to improve the acoustics. Sage One was intended as an acoustically perfect space, modelled on the Musikverein in Vienna. Its ceiling panels can be raised and lowered and curtains drawn across the ribbed wooden side walls, changing the sound profile of the room to suit any type of music.
The venue has hosted concerts from a wide range of internationally famous artists, including James Brown, Crosby, Stills & Nash, Grace Jones, Morrissey, Pet Shop Boys and Nancy Sinatra. In February 2015, it was one of the hosts of the second annual BBC Radio 6 Music Festival.
As a conference venue, the building hosted the Labour Party's Spring conference in 2005 and the Liberal Democrat Party conference in 2012.
The building is open to the public throughout the day.
Further reading
Links to external websites are not maintained by Bite Sized Britain. They are provided to give users access to additional information. Bite Sized Britain is not responsible for the content of these external websites.