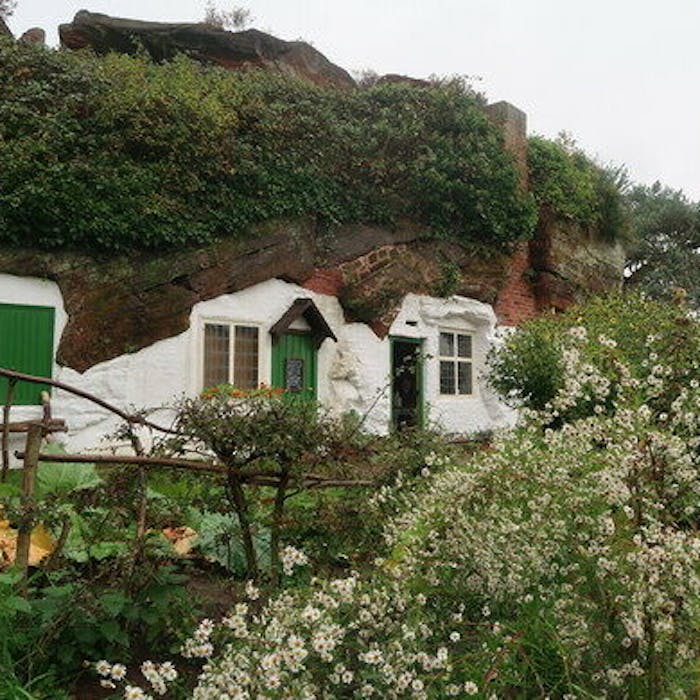 Holy Austin Rock Houses
Sandstone caves at Kinver Edge, near Kidderminster, were home to 44 people until the 1960s. They became a tourist attraction over a century ago and still make a fascinating visit.
Kinver Edge is home to the last troglodyte dwellings occupied in England, with a set of complete cave-houses excavated into the local sandstone. One of the rocks, "Holy Austin", was a hermitage until the Reformation. The Holy Austin rock houses were inhabited until the 1960s.
At their height, it is likely that as many as 11 families occupied the various cave houses.
None of the Holy Austin Rock Houses had running water or electricity, even after these commodities became commonplace in the average household. These fascinating houses were abandoned in the 1960s and were sealed off from the public for many years.
The cave houses are now owned by the National Trust and are open to the public. Two have been restored to a habitable condition. One represents the Victorian period and the other the 1930s. The detail and attention give visitors an excellent feeling for what it would have been like to live in these surprisingly spacious and cosy rock homes. The cottage gardens and an orchard are also being replanted and restored.
There is also a museum and the all-important National Trust tearoom, both also occupying space carved out of the sandstone. The tearoom uses the area that was run as a tearoom by the Reeves family, who lived in the rock houses until the 1930s.
It has been suggested that these rock houses served as the inspiration for Tolkien's Hobbit holes. Tolkien never confirmed this, but given that he lived in nearby Birmingham and has mentioned that he was inspired by much of the Midlands, it seems likely that these unusual houses could have sparked his imagination.
Other cave dwellings found on Kinver Edge include Nanny's Rock, a large cavern with five compartments which was apparently never converted into a house. For many years it was known as 'Meg-o-Fox-Hole'; the parish register records the death on 8 June 1617 of one 'Margaret of the fox earth' who may have lived there.
Another is Vale's Rock, also known as Crow's Rock, later turned into a house on two levels. It was also inhabited until the 1960s but due to its dangerous condition has since been fenced off to prevent public access.
Further reading
Links to external websites are not maintained by Bite Sized Britain. They are provided to give users access to additional information. Bite Sized Britain is not responsible for the content of these external websites.