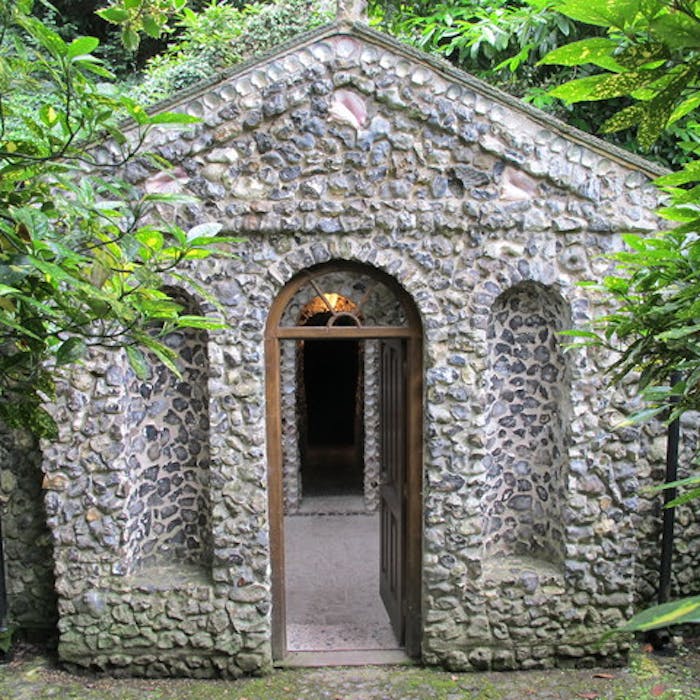 Scott's Grotto in Ware
The pleasant Hertfordshire town of Ware, just north of London along the river Lee, has a surprising secret. In an unassuming residential part of town nestles what is thought to be the largest grotto in England.
Scott's Grotto was begun in the 1760s by Quaker, poet and businessman John Scott as a fashionable adornment for his garden. Shell grottos were popular amongst the upper classes in the 1700s, as were many other whimsical garden features like stone temples, bridges and follies.
However, John Scott went a few steps further than the usual garden grotto, having six interconnected chambers and sixty-seven feet of tunnel dug into the chalk hillside below his garden.
Decorated with shells, broken glass, flint, fossils and other beautiful stones pressed into the cement walls, in one chamber a seat bears the word "Frog," referring to a nickname of Scott's wife, Sarah Frogley. Dr. Johnson visited the Grotto and called it a "fairy hall."
There are a number of theories as to why Scott built the extensive grotto - a cool place to read in summer, a quiet place to write poetry, or an attraction to impress friends from London. It is also theorised that, as a wealthy and devout Quaker, Scott felt it his duty to provide employment for the unemployed men of the area. If this is the case he certainly succeeded; the grotto is thought to have taken thirty years to complete.
Over the years, the land belonging to the house was sold off for development. By the 1960s suburbia had arrived at the Grotto and it was under threat of demolition. The porch and dome of the Council Chamber were demolished, the summerhouse was damaged and the grotto was heavily vandalised.
However, in 1974, the newly formed East Herts Council took responsibility for Scott's Grotto and carried out basic repairs. In 1986, the Ware Society (which is the conservation body for the town and had been opening the grotto to the public) proposed a comprehensive restoration scheme.
Work began in January 1990 and since the reopening in 1991 Scott's Grotto has been managed jointly by East Herts Council and the Ware Society. In 2019 it was transferred to the Scott's Grotto CIO (a charity) to preserve it for future generations.
Further reading
Links to external websites are not maintained by Bite Sized Britain. They are provided to give users access to additional information. Bite Sized Britain is not responsible for the content of these external websites.