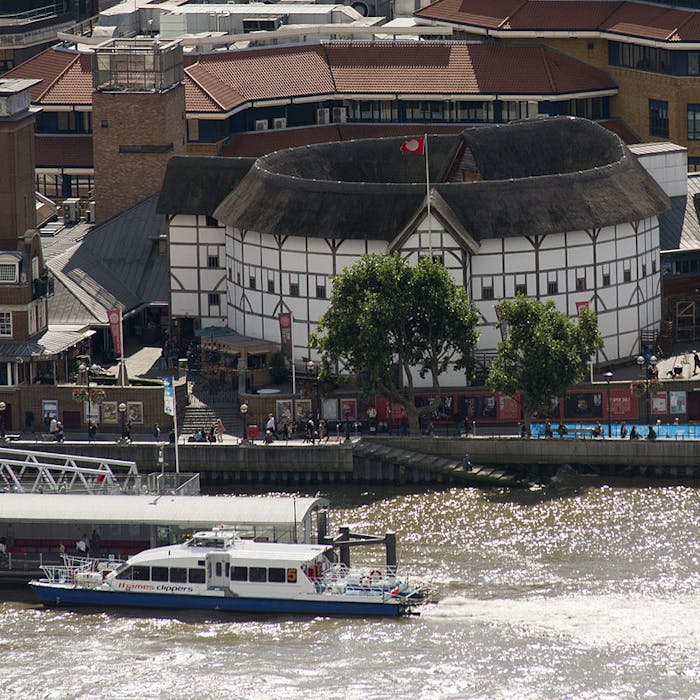 Shakespeare's Globe - a very different theatrical experience
Shakespeare's Globe is a reconstruction of the Globe Theatre, an Elizabethan playhouse for which William Shakespeare wrote his plays, in the London Borough of Southwark, on the south bank of the River Thames.
The original theatre existed for less than 50 years. It was built in 1599, destroyed by fire in 1613, rebuilt in 1614, and then demolished in 1644.
The modern Globe Theatre is an academic approximation based on available evidence of the 1599 and 1614 buildings. It is considered quite realistic, though modern safety requirements mean that it accommodates only 1,400 spectators compared to the original theatre's 3,000.
The style of the building offers an audience experience very unlike most other permanent theatres still in use today. It is open air, and performances are usually held during daylight hours. A large part of the audience stands on the ground in front of and around the stage, encouraging more uninhibited - even potentially rowdy - behaviour from the "cheaper tickets". Shakespeare would have expected his plays to be performed in front of crowds like this.
Shakespeare's Globe was founded by the actor and director Sam Wanamaker, built about 750 ft from the site of the original theatre and opened to the public in 1997, with a production of Henry V. The site also includes the Sam Wanamaker Playhouse, an indoor theatre which opened in January 2014. This is a smaller, candle-lit space based on the indoor playhouses of Jacobean London. The Sackler Studios, an educational and rehearsal studio complex, is situated just around the corner from the main site.
Actor Mark Rylance was the founding artistic director. The theatre does not exclusively perform Shakespeare plays.
Further reading
Links to external websites are not maintained by Bite Sized Britain. They are provided to give users access to additional information. Bite Sized Britain is not responsible for the content of these external websites.