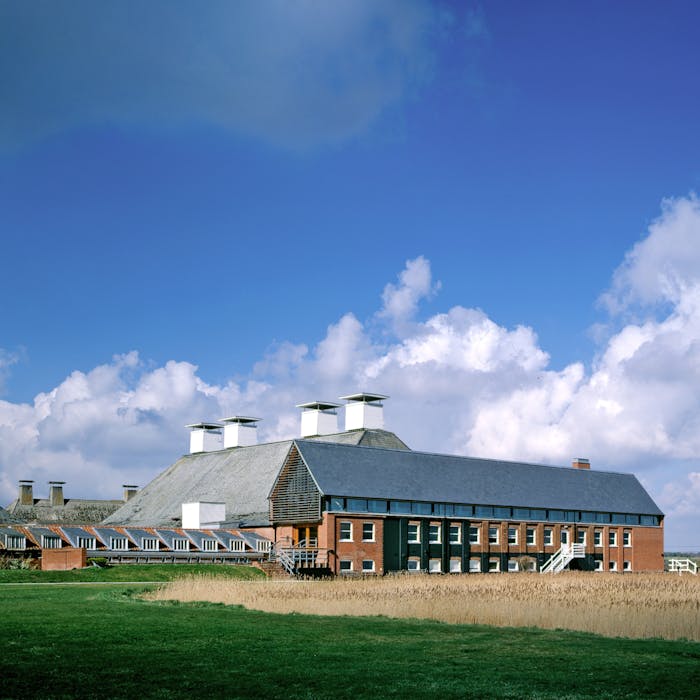 Snape Maltings - Suffolk brewery that became a renowned concert hall
Snape Maltings is a concert hall on the banks of the River Alde at Snape on the Suffolk coast. The original purpose of the building was the malting of barley for the brewing of beer, but it was converted into a unique performance venue in the 1960s, and became the main focus of the annual internationally-renowned Aldeburgh Festival - co-founded by British composer Benjamin Britten.
Victorian entrepreneur Newson Garrett, having acquired the already busy shipping port at Snape Bridge in 1841, then built Snape Maltings over the following decades to malt barley and ship it to London via the Thames. The business thrived for decades, as demand from breweries increased. In 1859 a purpose-built branch of the East Suffolk railway line was opened to serve the enterprise, and until 1960 up to three trains a day would run to and from the Maltings.
The complex grew to become some seven acres of buildings, and was one of the largest flat floor maltings in the country. But in 1965, after 120 years, the malting of barley ceased, and the site was purchased by Suffolk farmer George Gooderham.
In 1948 composer Benjamin Britten, inspired by the vast skies and moody seas of the Suffolk coast, and along with singer Peter Pears and writer Eric Crozier, had established the Aldeburgh Festival five miles from Snape. Britten and Pears made a point of educating and supporting young artists. They brought together international stars and emerging talent, including world-renowned figures such as singer Dietrich Fischer-Dieskau and violinist Yehudi Menuhin.
The festival rapidly established an international reputation, outgrowing its small venues in Aldeburgh itself. In 1965 Britten leased the largest building at Snape Maltings from George Gooderham to convert into the 810-seat Snape Maltings Concert Hall, which was opened by Queen Elizabeth in 1967. It was one of the earliest examples of an industrial building being repurposed for arts use, and is renowned for the quality of its acoustics.
In 2006 Aldeburgh Music purchased a 999-year lease of the Snape Maltings Concert Hall, investing around £14 million in further redeveloping the site. Today, the 'Creative Campus' at Snape Maltings has four performance venues (from 70 to 830 capacity) and over 20 rehearsal and public spaces. The remaining buildings at Snape Maltings are still owned by the Gooderham family, and are in use as residential and holiday accommodation, as well as a retail complex with monthly farmers' markets, and the annual Aldeburgh Food & Drink Festival.
Further reading
Links to external websites are not maintained by Bite Sized Britain. They are provided to give users access to additional information. Bite Sized Britain is not responsible for the content of these external websites.