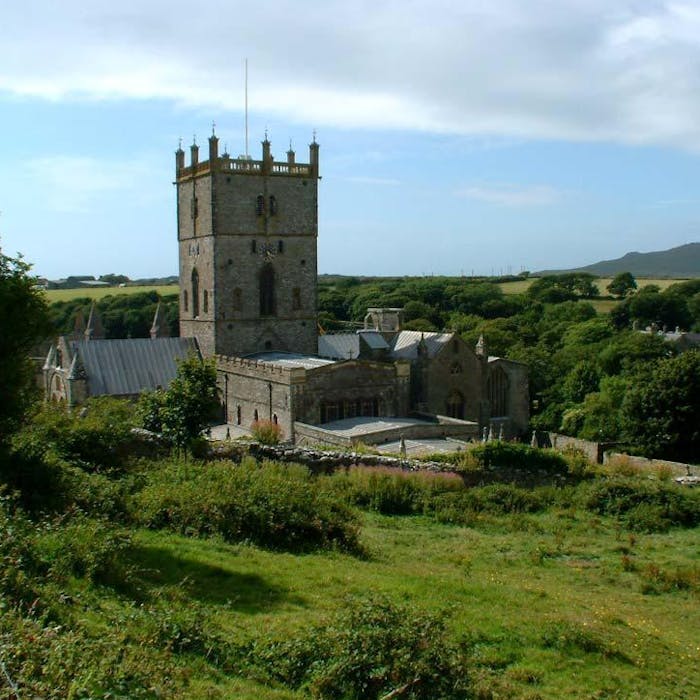 St Davids - the smallest city in Britain and religious shrine
St Davids is a town with a cathedral in Pembrokeshire, west Wales, lying on the River Alun. It is the resting place of Saint David, Wales's patron saint, and named after him.
By virtue of its cathedral and religious significance, St Davids has the status as the United Kingdom's smallest city in population and urban area. It has been a place of pilgrimage for centuries.
St Davids was given city status in the 12th century - something traditionally given to cathedral towns in England and Wales under a practice laid down in the early 1540s, when Henry VIII founded dioceses. City status was withdrawn in 1886, but was restored in 1994 at the behest of Queen Elizabeth II.
Legend states that David was born to Saint Non at what is now St Non's, just to the south of the city, in about AD 500.
He founded a monastery and church at Glyn Rhosyn (Rose Vale) on the banks of the River Alun. The monastic brotherhood that David founded was very strict. Besides praying and celebrating masses, they cultivated the land and carried out many crafts, including beekeeping, in order to feed themselves and the many pilgrims and travellers who sought lodgings. They also fed and clothed the poor and needy.
The settlement that grew up around the monastery was called Tyddewi meaning "David's house". In 519 the archbishopric of Caerleon in the county of Monmouth was transferred here, and named in David's honour. The original cathedral built on the site was often plundered by the Vikings and was finally burnt and destroyed in 1087.
The present cathedral was built by the Normans and contained many relics, including the remains of St David. It was visited by many pilgrims, many of whom were nobles and kings, including William the Conqueror in 1077. Pope Calixtus II decreed that two pilgrimages to St Davids were equivalent to one to Rome. This allowed a vast income to be raised from visiting pilgrims in the Middle Ages. Pilgrimages later fell out of favour due to practices such as the selling of indulgences, and the income from them faded away.
By the 19th century, the city of St Davids was isolated and neglected, but the advent of modern tourism, transport and holiday allowances brought about a revival of its the fortunes.
In addition to the cathedral there are 210 listed ancient buildings and structures, including the 14th-century Tower Gate and the Celtic Old Cross.
Further reading
Links to external websites are not maintained by Bite Sized Britain. They are provided to give users access to additional information. Bite Sized Britain is not responsible for the content of these external websites.