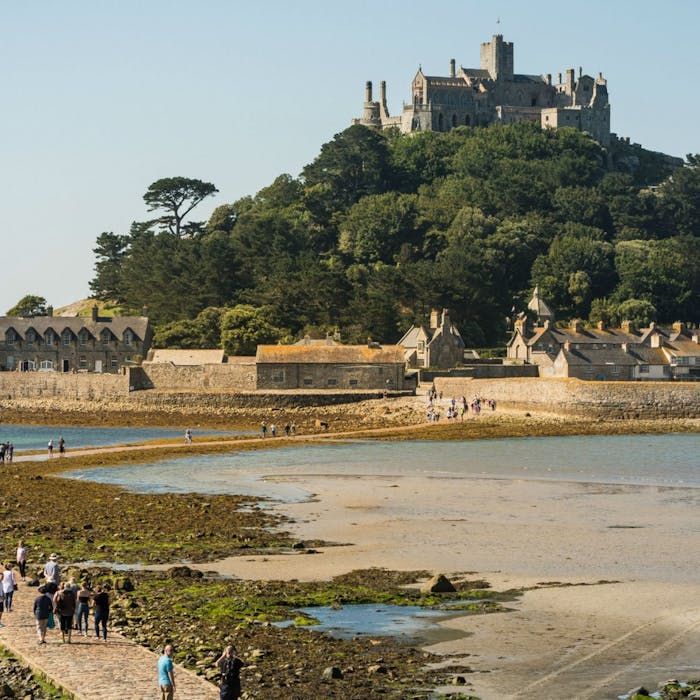 St Michael's Mount
St Michael's Mount in Cornwall is a prominent feature just off the coast at Marazion. It is a smaller version of its namesake in Normandy, France - a rocky island crowned by a medieval church and castle. It is reachable by a man-made causeway of granite from the town at low tide.
Like Mont-Saint-Michel in Normandy, it was given to the Benedictine religious order of Mont Saint-Michel by Edward the Confessor in the 11th century. It even shares the same tidal island characteristics and the same conical shape, though it is much smaller than its French equivalent.
The Mount has stunning panoramic views across Mounts Bay to Lands End and The Lizard. The island is approached via a causeway at low tide, or by boats or a short ferry crossing during high tide.
Now in the care of the National Trust, the Mount's castle and gardens are open to the public during weekdays from April to October, and most weekends. The St Aubyn family retain a 999-year lease to inhabit the castle.
The castle was originally the site of a Benedictine Chapel, and itself dates from the 14th Century. Current long-term owners the St Aubyn family created a stunning garden with pathways that wind their way up to the main entrance of the mount through carefully planted slopes that feature many sub-tropical species. The southerly aspect of the island is not open to the public, but glimpses of the sub-tropical gardens can be seen from the walls of the house or by taking one of the boat trips around the island that leave from the quayside at regular intervals.
As well as the castle, the Cornish Mount houses a small village, which reached its population peak in the 1800s with over 300 islanders. Now there are about 30, who travel to the mainland for schools, shopping and employment. 
Further reading
Links to external websites are not maintained by Bite Sized Britain. They are provided to give users access to additional information. Bite Sized Britain is not responsible for the content of these external websites.