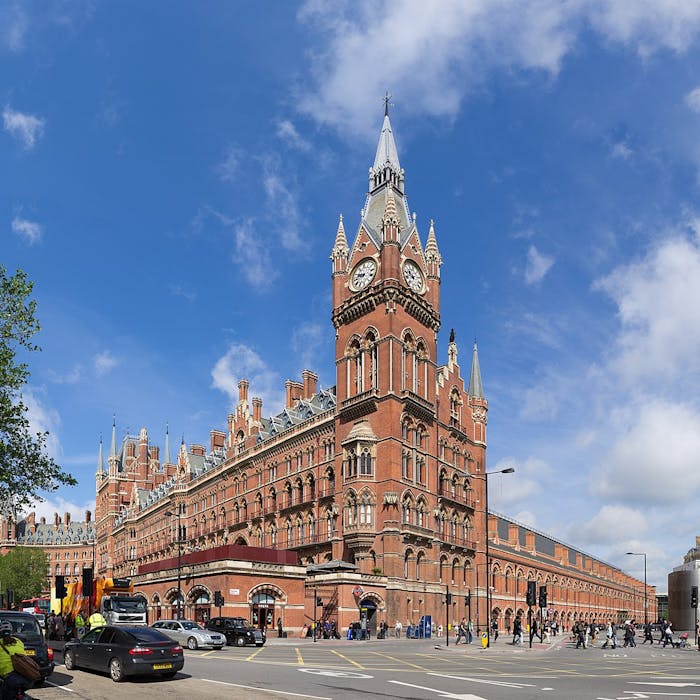 St Pancras Station and the Midland Grand Hotel - a Victorian extravagance
London's St. Pancras railway station is a celebration of Victorian grandeur and architectural indulgence, with a magnificent red-brick exterior and soaring clock tower.
The 1860s Victorian Gothic structure is widely considered an architectural masterpiece, but was almost destroyed a hundred years after it was built in a planned piece of 1960s redevelopment by British Rail.
The station itself, with its grand train shed was constructed by the Midland Railway, who decided to build a connection from Bedford to London with its own terminus. Following the station's opening on 1st October 1868,  Midland Railway added the stunning Midland Grand Hotel on the station's Euston Road façade, designed by George Gilbert Scott.
The hotel opened in 1873. It was a luxury venue, with costly fixtures including a grand staircase, rooms with gold leaf walls and a fireplace in every room. It had many innovative features such as hydraulic lifts, concrete floors, revolving doors and fireproof floor constructions, though none of the rooms had bathrooms, as was the convention of the time.
After 60 years fashions and economics had changed, and the costly to run and labour intensive hotel closed in 1935. For a time it was used as railway offices, and then left empty.
In the late 1960s, plans were made to demolish St Pancras entirely, and divert train services to King's Cross and Euston, leading to fierce opposition. Poet and aesthete Sir John Betjeman was one of the prominent campaigners against the plans, which were defeated, though a future role for the building was still missing.
Eventually the station and hotel complex underwent an £800 million refurbishment, the station becoming the terminal for the Channel Tunnel Rail Link,Eurostar and High Speed 1 rail services, which was completed in 2007, whilst the hotel was restored to a luxury property reopened in 2011 as the St. Pancras Renaissance Hotel, a Grade I listed building along with the rest of the station.
The remarkable interior of the building has been painstakingly restored, including features redolent of palaces and churches, with pointed arches and ogees, bunches of colonettes, carvings of flowers and fruit, trefoils and quatrefoils. The materials include granite, alternating pink and white stone and wrought iron. The decoration has been described as being as rich as it would have been in medieval buildings, and is as dazzling as it can be. Within a square foot or two, you can find royal blue, vermilion, gold, green, pink and a mustardy yellow. Great floral motifs march across the wallpaper and the theatrical main staircase is decorated with 2,300 fleurs-de-lis. There are paintings of the Virtues and of a chaste love scene from theRoman de la Rose.
Meanwhile, on the station's mezzanine, stands a statue of John Betjeman, holding his hat and gazing up at the spectacular vaulted ceiling. Around his feet are inscribed the words "Who saved this glorious station."
Further reading
Links to external websites are not maintained by Bite Sized Britain. They are provided to give users access to additional information. Bite Sized Britain is not responsible for the content of these external websites.