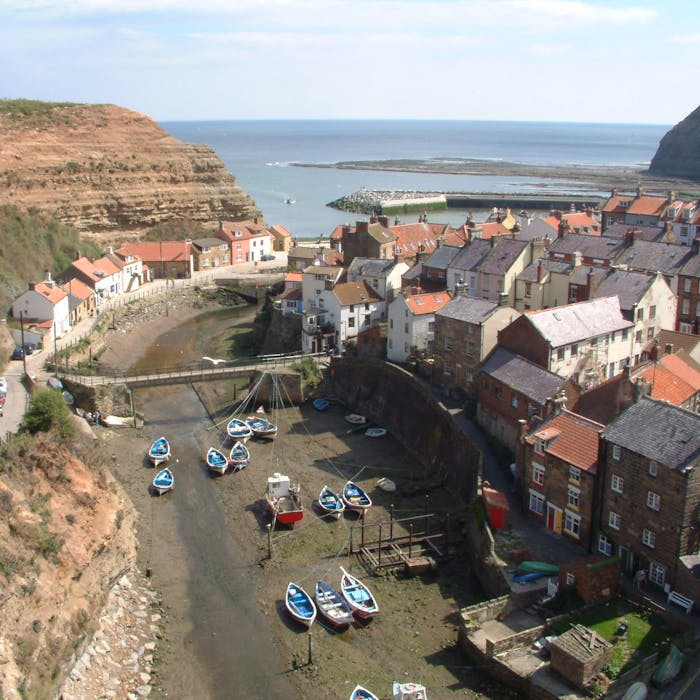 Staithes - where Captain Cook fell in love with the sea
Clinging to a hillside, Staithes has winding cobbled streets and pretty cottages. This North Yorkshire seaside resort, 10 miles from Whitby, is the quintessential charming fishing village.
The name Staithes derives from Old English and means 'Landing-Place'. It was once one of the largest fishing ports in the North East, but is now largely a tourist destination, lying within the North York Moors National Park. From here, visitors can explore Yorkshire's cliff top paths or go rock pooling and fossil hunting on the small sandy beach. The area is good for finding ammonites!
At the turn of the 20th century, there were 80 full-time fishing boats putting out from Staithes. A hundred years later there are still a few part-time fishermen. There is a long tradition of using the coble (a traditional fishing vessel) in Staithes.
The village has numerous narrow streets and passageways; one of these, Dog Loup, with a width of just 18 inches (45.7 cm), is claimed to be the narrowest alley in the world.
In 1745–46, Staithes' most famous resident, James Cook (born in Marton-in-Cleveland, Middlesbrough), worked in Staithes as a grocer's apprentice where he first gained his passion for the sea. He moved to nearby Whitby where he joined the Royal Navy. William Sanderson's shop, where Cook worked, was destroyed by the sea, but parts were recovered and incorporated into "Captain Cook's Cottage". This has been the home of a local Staithes family for several generations.
Staithes has often been the subject of paintings and prints. In the 19th-century the village was home to a group of twenty to thirty artists known as the "Staithes group" or the "Northern Impressionists".
Further reading
Links to external websites are not maintained by Bite Sized Britain. They are provided to give users access to additional information. Bite Sized Britain is not responsible for the content of these external websites.