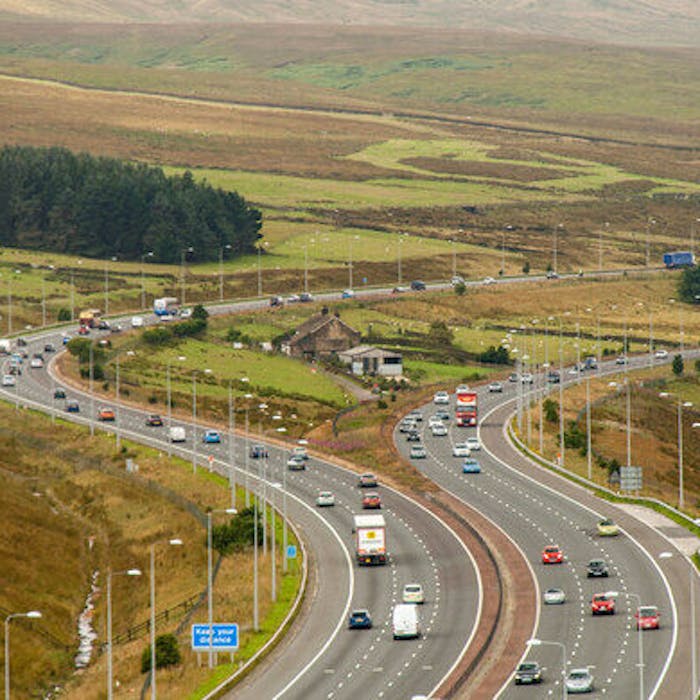 Stott Hall Farm - not quite the sleepy country retreat
Anyone wishing to escape the rat race and embrace a rural idyll should, perhaps, forget any thoughts of buying Stott Hall Farm in West Yorkshire. This unique property sits in the middle of the M62 motorway!
The story goes that when the M62 was built on the moors above Huddersfield in the late 1960s, the owner, Ken Wild, refused to sell his land, and so the 18th century house and fields ended up sandwiched between the westbound and eastbound lanes of the motorway. In fact, engineers forked the road due to a geological fault beneath the farm.
Wondering how the owners get in and out? The farmers have private access via an underpass. The farm also has fences to keep livestock in, trees strategically placed to offer some privacy, and triple-glazed windows to keep the noise to a hum inside the house. And while it is surrounded by motorways, the farm has joined environmental and sustainability initiatives, such as providing habitat for key bird species and restoring peatland bog to lock away carbon and help fight climate change.
The current owners of the farm have said that as it's always windy on this spot, the traffic pollution is blown away. To test this theory, students from the University of Huddersfield took soil and air samples and found that pollution is, indeed, surprisingly low.
Further reading
Links to external websites are not maintained by Bite Sized Britain. They are provided to give users access to additional information. Bite Sized Britain is not responsible for the content of these external websites.