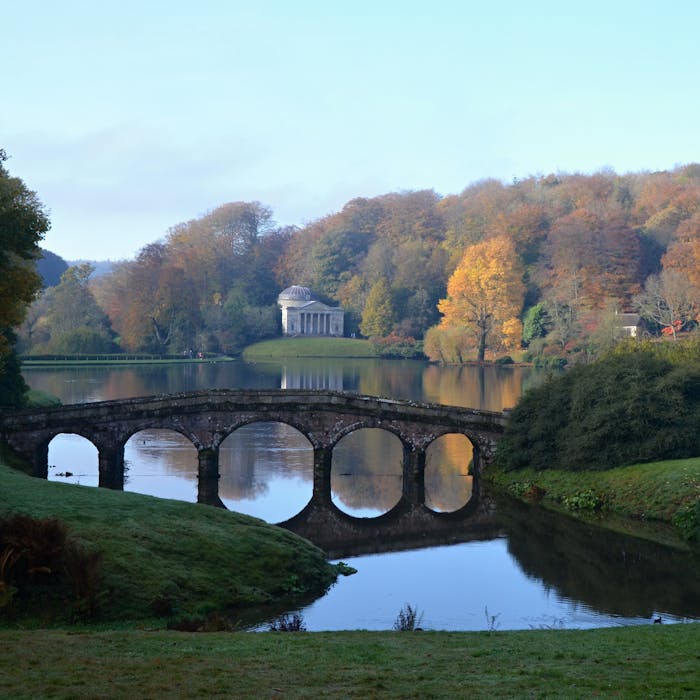 Stourhead - Italianate mansion and spellbinding lakeside gardens
Stourhead is a grand 2,650-acre estate at the source of the River Stour in southwest Wiltshire. The gardens around a lake are famously beautiful, as is the view across the water to an Italianate lakeside temple.
The estate includes a Grade I listed 18th-century Palladian mansion, the village of Stourton, extensive gardens, farmland, and woodland.
When Stourhead first opened in the 1740s, a magazine described it as 'a living work of art'. The world-famous landscape garden has at its centrepiece a magnificent lake reflecting classical temples, mystical grottoes, and rare and exotic trees.
The gardens were designed by owner Henry Hoare II and laid out between 1741 and 1780 in a classical 18th-century design set around a large artificial lake, achieved by damming a small stream. The inspiration behind their creation were the painters Claude Lorrain, Poussin, and, in particular, Gaspard Dughet, who painted Utopian-type views of Italian landscapes. An early feature, predating the lake, is the Temple of Flora. Lakeside features include the much-photograped and delightful five-arched Palladian Bridge at the eastern extremity of the lake; the Rockwork Bridge over the road to the south of the lake; the wonderful grotto and the Gothic Cottage summerhouse.
Also in the garden are a number of temples inspired by scenes of the Grand Tour of Europe. On one hill overlooking the gardens stand an obelisk of 1839 and King Alfred's Tower, a 50-metre-tall, brick folly designed by Henry Flitcroft in 1772; on another hill the temple of Apollo provides a vantage point to survey the magnificent rhododendrons, water, cascades and temples. The gardens are home to a large collection of trees and shrubs from around the world. The garden is arguably at its best in Autumn - due to the autumn colours of the trees and shrubs around the lake, and late spring - when there is a dazzling display of rhododendron and azalea blooms.
Stourhead has been part-owned by the National Trust since 1946.
Further reading
Links to external websites are not maintained by Bite Sized Britain. They are provided to give users access to additional information. Bite Sized Britain is not responsible for the content of these external websites.