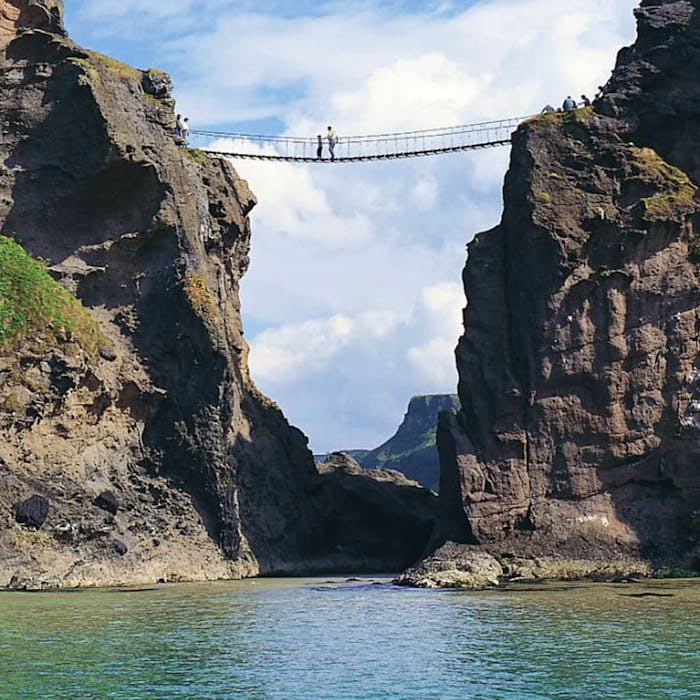 A rope with a view - the Carrick-a-Rede Bridge
Visitors with a good head for heights should enjoy the Carrick-a-Rede rope bridge in Northern Ireland. They can experience the thrill of swaying with the wind as they cross an inlet of the Atlantic Ocean on foot, whilst taking in the stunning views along the Causeway Coastal Route, an area of outstanding natural beauty.
Carrick-a-Rede is one of Northern Ireland's most loved attractions, cared for by the National Trust.
Suspended almost 100 ft (30 m) above sea level, a rope bridge was first erected by salmon fisherman 350 years ago.
The rope bridge runs between Carrick Island and the County Antrim mainland across the Atlantic. Carrick-a-Rede Island is the final destination, and home to a fisherman's cottage steeped in history and heritage.
Visitors can enjoy the experience of crossing the bridge high above the water, open to the elements and with the creak of wooden slats and the sound of waves swirling beneath their feet.
Thousands of people come every year to blow away the cobwebs, see the beautiful coastal scenery, and spot rare wildlife.
Further reading
Links to external websites are not maintained by Bite Sized Britain. They are provided to give users access to additional information. Bite Sized Britain is not responsible for the content of these external websites.