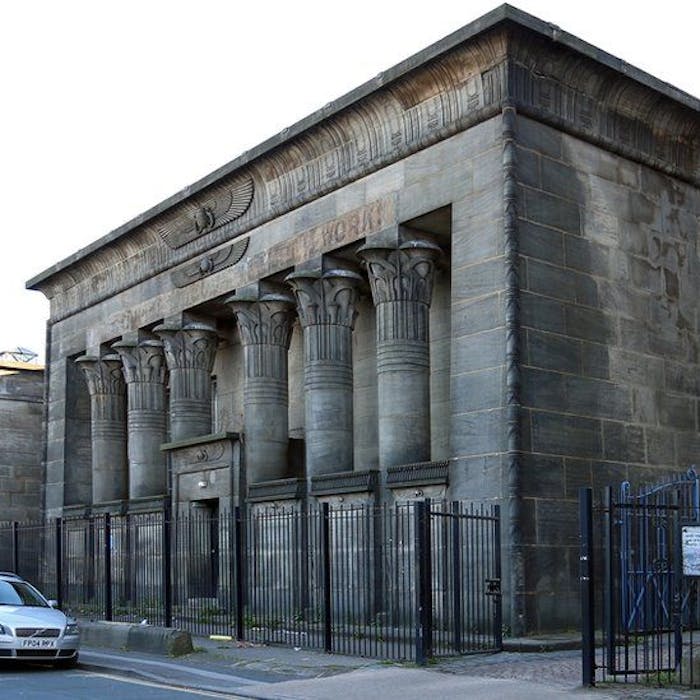 Temple Works, a neglected treasure in Leeds
An amazing former flax mill designed to look like an Ancient Egyptian Temple sits on Marshal Street in Holbeck, Leeds, West Yorkshire, but its future is in doubt. When built in 1836, Temple Works' factory floor, where a thousand people used to work, was reputedly the single biggest room in the entire world.
Temple Works was built in the Egyptian Revival style by mill-owner John Marshall, who was fascinated by the temples of Ancient Egypt. There was even a chimney in the style of Cleopatra's Needle, though this was replaced in 1852.
Apparently, the building also had the world's first hydraulic lift, which was used to transport sheep to the flat roof! The livestock were placed there to graze on grass, which grew on the roof to bring moisture into the factory below and maintain humid temperatures. This was to prevent the linen thread from becoming dried out and breaking.
The Marshall business eventually fell on hard times due to industrial competition and collapsed in 1886, since when the building has had a number of uses, but has had a lack of proper care and maintenance despite its unique character.
In the last few years it has been derelict, and suffered a substantial collapse in 2009. Despite vaArious plans for its rescue, none have come to fruition. In March 2020 it was announced that the building was under consideration as the home of a planned Northern branch of the British Library, and the government's 2020 budget promised £25 million towards its restoration to this end
Further reading
Links to external websites are not maintained by Bite Sized Britain. They are provided to give users access to additional information. Bite Sized Britain is not responsible for the content of these external websites.