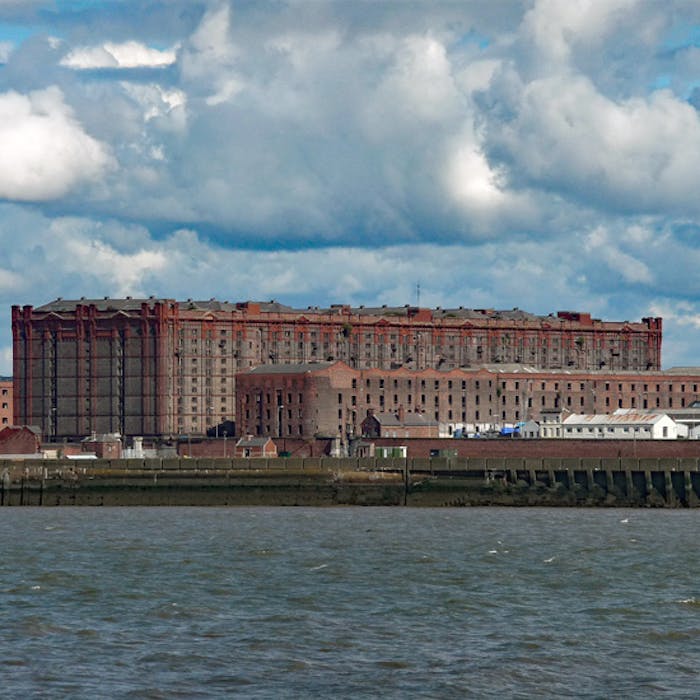 The Tobacco Warehouse - big on bricks in Liverpool
The Tobacco Warehouse, Stanley Dock, Liverpool is the world's largest brick warehouse. It was completed in 1901 when trade through the Merseyside port was at its height. It deployed more than 27 million bricks, 30,000 panes of glass and 8,000 tons of steel.
The 14 storey grade II listed building spans 36 acres and could accommodate 70,000 hogsheads of tobacco, each weighing 453 kg (1,000 lbs), some of which were stored for up to 15 years before being bought or collected by cigarette manufacturers.
The overall design is by A. G. Lyster, the Dock Engineer, but Arthur Berrington, architectural draughtsman, almost certainly played a part. The warehouse was a late addition to the Stanley Dock complex (now a UNESCO World Heritage Site) and was built on land reclaimed from the dock. Stanley Dock is accessible both from the Mersey estuary and the inland waterway system from the dock system by barge from the Leeds and Liverpool Canal which enters under Great Howard Street bridge.
With the decline of trade going through Liverpool, the warehouse fell into disuse in the 1980s and gradually into disrepair. The building is now being converted into 538 'luxury waterfront apartments'.
Further reading
Links to external websites are not maintained by Bite Sized Britain. They are provided to give users access to additional information. Bite Sized Britain is not responsible for the content of these external websites.