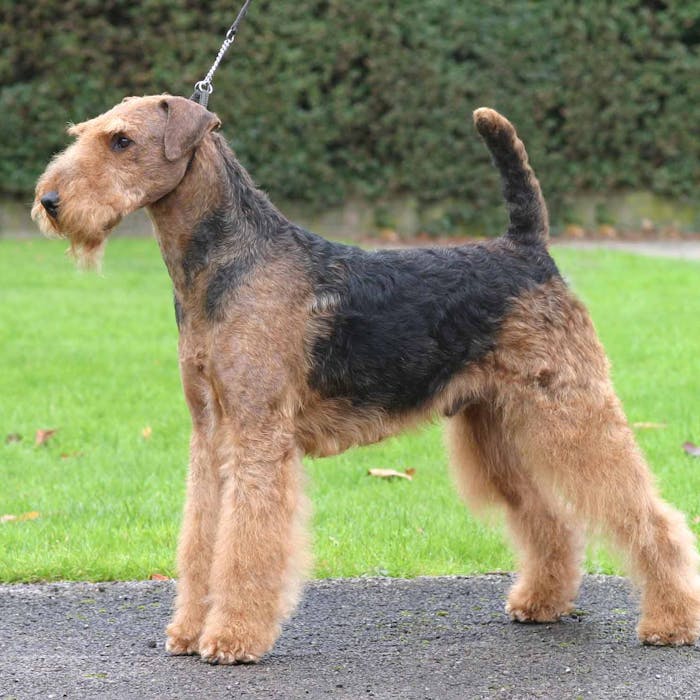 The Airedale Terrier
The Airedale Terrier is a British dog breed that originated in the valley of the River Aire in Yorkshire. It is traditionally called the "King of Terriers" because it is the largest of the terrier breeds, and has been used as a hunting dog, farm dog, and to carry messages during World War 1.
The Airedale was originally bred to catch otters and rats in the region between the Aire and Wharfe Rivers. It began to be bred from the 1850s, eventually consolidating into the Airedale Terrier known today by the late 1800s.
Airedale Terriers were used throughout World War I as messengers, sentries, carriers of food and ammunition, scouts, ambulance dogs, ratters, Red Cross casualty dogs, sled dogs, and guard dogs.
During World War I, a hardy Airedale Terrier named Jack braved the battlefields to deliver a message to British headquarters. Running through a half-mile of swamp, artillery raining down on him, Jack suffered a shattered leg and broken jaw. Sadly, he passed away soon after he'd completed his mission. Incredibly, the message he was carrying saved his battalion and he was posthumously awarded the Victoria Cross for "Gallantry in the Field."
After the war, the stories of the Airedale Terrier's bravery and loyalty sparked popularity in the breed and they were very popular for a time both in Britain and the USA. Presidents Theodore Roosevelt, Warren Harding, and Calvin Coolidge were among the many people who owned the breed.
Airedale Terriers are very intelligent, independent, strong-minded, stoic, and sometimes stubborn. They are playful into adulthood and are very loyal to their owners.
Further reading
Links to external websites are not maintained by Bite Sized Britain. They are provided to give users access to additional information. Bite Sized Britain is not responsible for the content of these external websites.