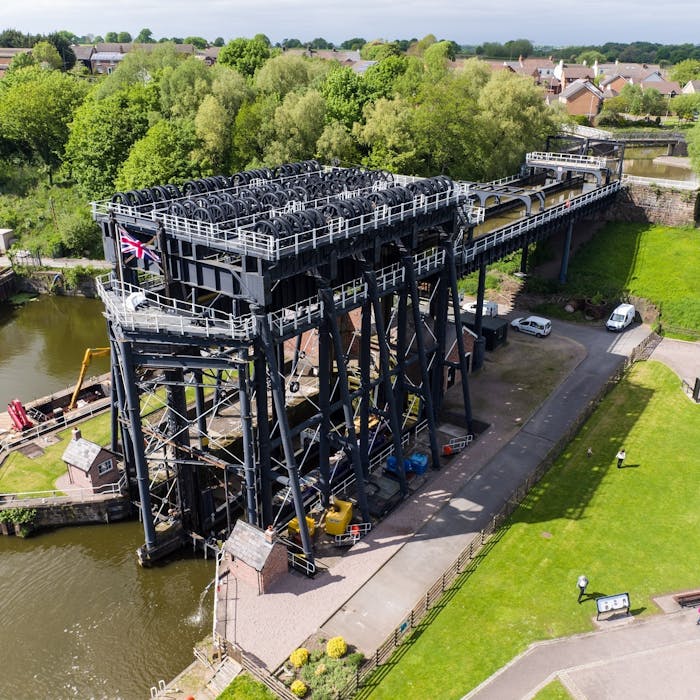 Anderton Boat Lift - 'Cathedral of the Canals'
The Anderton Boat Lift is a unique industrial structure that solved a problem of getting canal barges between two different levels of waterway. The two-caisson lift lock near the village of Anderton, Cheshire was built in 1875.
It provides a 50 foot link between the River Weaver and the Trent and Mersey Canal and is one of only two working boat lifts left in Britain.
By the end of the 17th century a major salt mining industry had developed around the Cheshire 'salt towns' of Northwich, Middlewich, Nantwich and Winsford. In 1793, a basin was excavated on the north bank of the River Weaver at Anderton that took the river to the foot of the escarpment of the canal - 50 feet above above.
By 1870, the Anderton Basin was a major interchange for trans-shipping goods in both directions. This led to Trustees of the Weaver Navigation deciding that a waterway link was required. In the same year, they decided to fund the construction of a boat lift between the waterways of the Anderton Basin themselves.
The lift was designed by Edward Leader Williams, the civil engineer behind the Manchester Ship Canal. He settled on a design involving a pair of water-filled caissons that would counterbalance one another and require relatively little power to lift boats up and down. Construction began in 1872, and it formally opened to traffic in 1875. It has been nicknamed 'Cathedral of the Canals'.
Hydraulic operation caused problems - mainly through corrosion of the pistons. Conversion into an electric-operated boat lift occurred between 1906 and 1908. After conversion to electrical operation, the boat lift operated successfully for 75 years. However, extensive corrosion was found in 1983, and the lift was declared structurally unsound and closed.
During the 1990s a restoration bid took place, led by British Waterways, and in 1997 it was decided to restore the lift to hydraulic operation! It re-opened to boat traffic in 2002, and now includes a two-storey visitor centre.
Further reading
Links to external websites are not maintained by Bite Sized Britain. They are provided to give users access to additional information. Bite Sized Britain is not responsible for the content of these external websites.