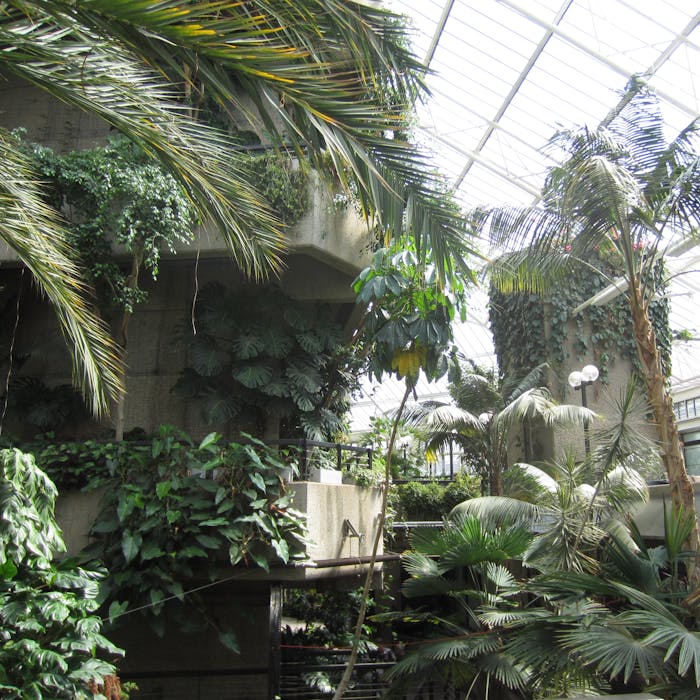 Barbican Conservatory - the City of London's indoor rainforest
The Barbican Arts Centre in the City of London is a rather mysterious place - hidden amongst an extensive (and expensive!) estate of flats, with labyrinthine bridges, lifts and walkways that give you little sense of how high or low you are, or in what direction you are travelling.
Aim for anywhere in particular and you'll probably end up somewhere else. But you'll be in luck if you make it to the tropical calm of the Barbican Conservatory.
Above the the fly tower of the Barbican Centre's main theatre, sits the surprising two-storey conservatory filled with lush greenery, contrasting oddly with the grey concrete Brutalist style of the 1980s Barbican estate. This conservatory is the second largest in London (after Kew Gardens) and home to over 1,500 species of plants. It is nonetheless one of the capital's lesser-known green spaces. 
The conservatory was opened in 1982 and was intended to be a major visitor attraction and indoor green oasis for Londoners. However, visitor numbers proved low. Over the years, owners the city corporation reduced opening hours, and instead leased the conservatory out as a venue for private parties and corporate events. Opening hours to the public are now quite limited (usually Sunday afternoons, free entry), making it a hidden gem. 
The conservatory is split into two main houses. The larger is the tropical house, containing palms, exotic shrubs, fruit trees, and an impressive collection of chilli plants in one corner. A flight of stairs leads to the arid house, which is filled with cacti and succulents, some of which have grown so large they are twisting against the glass roof. A café serves a luxurious afternoon tea—booking is advised. There are also two fish ponds, filled with colourful koi carp, rudd, and roach. A terrapin pool is perched on a ledge by the arid house, its invading residents having been transported from ponds on Hampstead Heath, where they were disrupting the ecosystem.
Further reading
Links to external websites are not maintained by Bite Sized Britain. They are provided to give users access to additional information. Bite Sized Britain is not responsible for the content of these external websites.