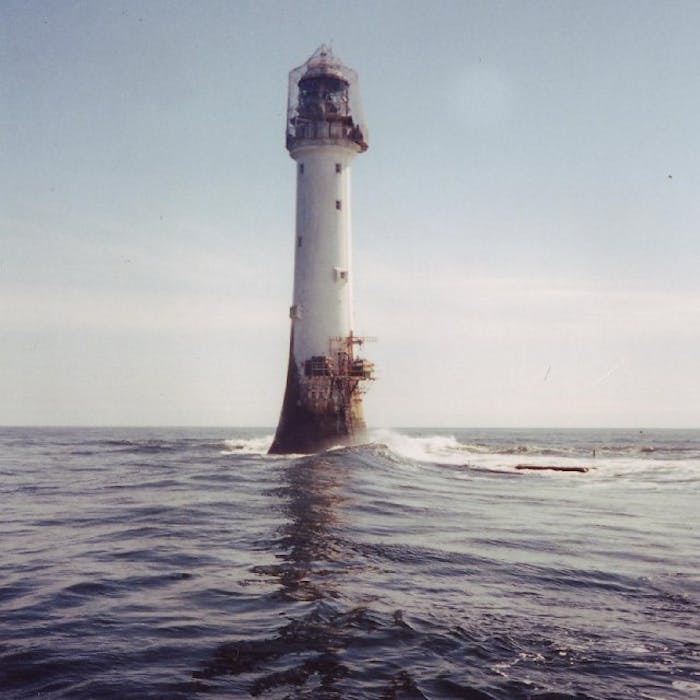 Bell Rock Lighthouse - first to take on the cruel sea
The Bell Rock Lighthouse, off the coast of Angus, Scotland, constructed at beginning of the 19th century, is the world's oldest surviving sea-washed lighthouse - one built out at sea, often on a rock or reef.
It was built between 1807 and 1810 by Robert Stevenson on the Bell Rock in the North Sea, 11 miles east of the Firth of Tay. Engineer John Rennie is also credited with parts of its design. Standing 115 ft (35 metres) tall, its light is visible from 35 miles inland, and its masonry work was of such a high standard that it has not been replaced in over 200 years. The self weight of the structure and the dovetail joints give the lighthouse enough strength to withstand the force of the North Sea.
The Bell Rock (also known as Inchcape) is a reef covered by 14ft of water at high tide. Before the lighthouse was built, it was notorious for shipwrecks - around six ships were lost on the reef every winter.
Since the lighthouse was built, the only recorded wrecks in the area have been HMS Argyll – during wartime blackouts in 1915 – and the cargo vessel Rosecraig. The Rosecraig ran aground in fog on the evening of 21 September 1908. Although the ship sank, her crew of seven was saved.
Designs for the lighthouse were closely based on Smeaton's Tower – also known as the Eddystone Lighthouse – built on the dangerous Eddystone Rocks off the coast of Cornwall in 1759.
The Bell Rock Lighthouse has featured in literature and painting, including R. M. Ballantyne's novel The Lighthouse (1865), which is centred on the construction of the Bell Rock Lighthouse, and a dramatic watercolour by Turner.
The working of the lighthouse has been automated since 1988. The lighthouse previously operated in tandem with a shore station, the Bell Rock Signal Tower, built in 1813 at the mouth of Arbroath harbour.
Further reading
Links to external websites are not maintained by Bite Sized Britain. They are provided to give users access to additional information. Bite Sized Britain is not responsible for the content of these external websites.