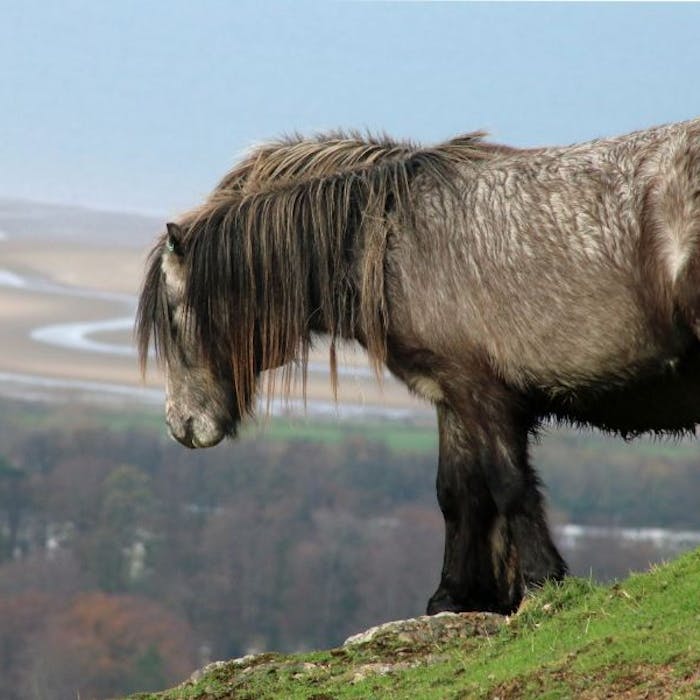 Snowdonia's unique Pony breed
The Carneddau Mountain range in the Snowdonia National Park is home to a small population of around 300 semi-feral distinctive-looking Carneddau ponies, whose history is thought to date back to the Bronze Age. Although they are not designated as a rare breed, they are genetically separate from the Welsh Mountain pony and carry genes specifically related to hardiness and waterproofing.
Standing at around 10 to 11 hands high, with a sturdy body, small ears shaped like sage leaves and strong character, the herd ranges over nearly 13,500 acres or 20 square miles of common between Bethesda, Llanfairfechan, Capel Curig and Conwy, which includes mountains over 3,000 feet high, bogs, cliffs, rocky slopes and lakes. The scenery is spectacular and the ponies know every inch of it. They are owned and managed by the Carneddau Pony Society - a group of farmers from Bethesda and Llanfairfechan who are supported through a management agreement with Natural Resources Wales that helps them to maintain the herd, grazing to benefit wildlife on the mountains, from Chough to Dung beetles.
The ponies graze differently from sheep and have a wider diet than domestic ponies, they will eat soft rush, Molinia, gorse and mountain grasses. Their grazing and trampling help to keep bracken and gorse under control, create pathways and maintain the landscape of the mountains.
Under the agreement the herd numbers must be kept steady to avoid overgrazing so draft mares, colt foals and surplus fillies are sold off each year. In the past they were sold as pit ponies.
These days, other futures need to be found, and working with organisations such as the North Wales Wildlife Trust, National Trust, Local Councils, RSPB and private individuals and farmers, Pori, Natur a Threftadaeth (PONT), Wales's grazing organisation, have found 200 of these ponies' jobs and homes across Wales and England over the last 10 years. They are great for helping to manage a range of habitats, from fens to dunes to heathlands and grassland because they are able to eat coarse grass, produce dung to benefit birds and insects, are extremely hardy and, being semi-feral, don't bother the public.
Further reading
Links to external websites are not maintained by Bite Sized Britain. They are provided to give users access to additional information. Bite Sized Britain is not responsible for the content of these external websites.