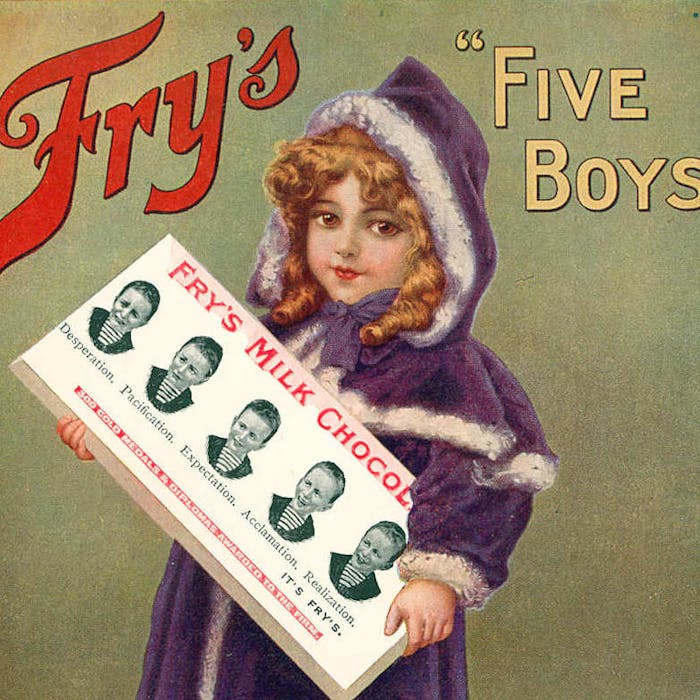 Home of the Chocolate Bar - Fry's of Bristol
The first solid chocolate bar came into our lives in 1847, the invention of JS Fry and Sons in Bristol, founded by Quakers. Then in 1866, the first mass-produced chocolate bar, Fry's Chocolate Cream, was launched.
Fry's, who used an image of "Five Boys" on their marketing, also produced the first chocolate Easter eggs in the UK in 1873, and Fry's Turkish Delight, in 1914.
Fry's merged with Cadbury Brothers in 1919. The Fry's name disappeared in 1981, but the Somerdale factory in Keynsham, near Bristol, continued to operate until its long-mooted closure occurred in 2011 with the loss of around 400 jobs, due to the land being much more valuable for housing than the comparatively expensive British workforce. This caused some outrage as it followed the takeover of Cadbury plc. by American company Kraft Foods in 2010.
Kraft had specifically agreed during the takeover battle to keep the site open. Controversially, RBS, a bank 84% owned by the UK taxpayer at the time, funded the Kraft takeover. Production now takes place in Poland with the Somerdale site a retirement community called the Chocolate Quarter..
Further reading
Links to external websites are not maintained by Bite Sized Britain. They are provided to give users access to additional information. Bite Sized Britain is not responsible for the content of these external websites.