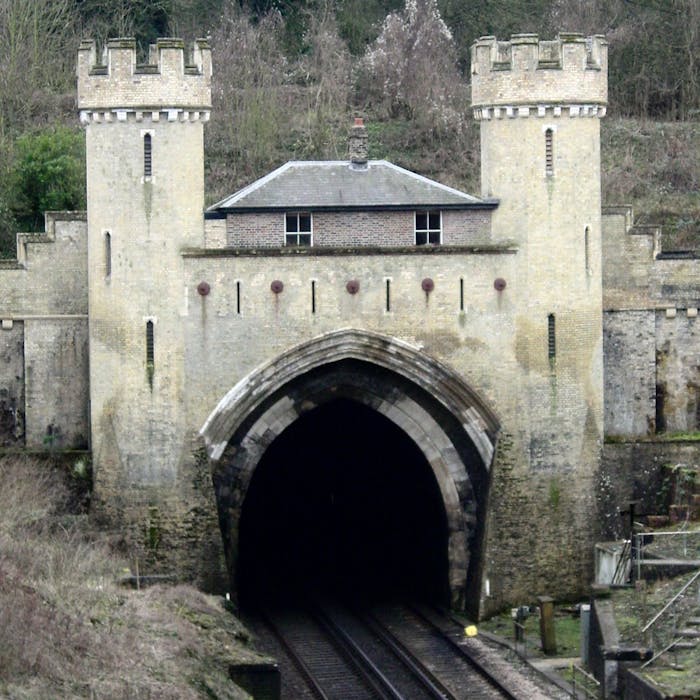 The dramatic and tragic Clayton Tunnel
Anyone travelling by train through Sussex on the Brighton Main Line from London will surely have noticed the Clayton Tunnel between Hassocks and Preston Park railway stations. With its turreted and castellated north portal, it is a charming and whimsical sight, but has a tragic history.
The Clayton Tunnel lies in the village of Pyecombe, West Sussex. At 1 mile 499 yards, this is the longest tunnel on this line, and cuts through the chalky South Downs. Construction in the early-nineteenth century was a challenging prospect, but was unavoidable as without passing through the hills of the South Downs, any alternate route to Brighton would have been very circuitous. Engineered by John Rastrick to a design by architect David Mocatta, construction commenced in 1838 being completed three years later.
Originally, the tunnel was lit with gas lamps for the benefit of passengers, but the trains kept snuffing them out as they passed, so the lamps were eventually abandoned.
The tragedy occurred on Sunday 25th August 1861. It was the worst accident on the British railway system at the time. Due to signalling errors, a train ran into the back of another inside the tunnel, killing 23 and injuring 176 passengers. Subsequent enquiries blamed timetabling, signal errors, and unreasonable working hours for the signalmen.
Charles Dickens' ghost story The Signal-Man, written in 1866, was probably partly inspired by this event.
An unusual feature of the north portal is the single-storey cottage perched directly over the line. It was added in 1849 at a cost of £70 and was originally built to house the tunnel's caretaker and his family. It is now a private dwelling as well as being a Grade II listed building. Several occupants over the years have reported ghosts around the tunnel.
Further reading
Links to external websites are not maintained by Bite Sized Britain. They are provided to give users access to additional information. Bite Sized Britain is not responsible for the content of these external websites.