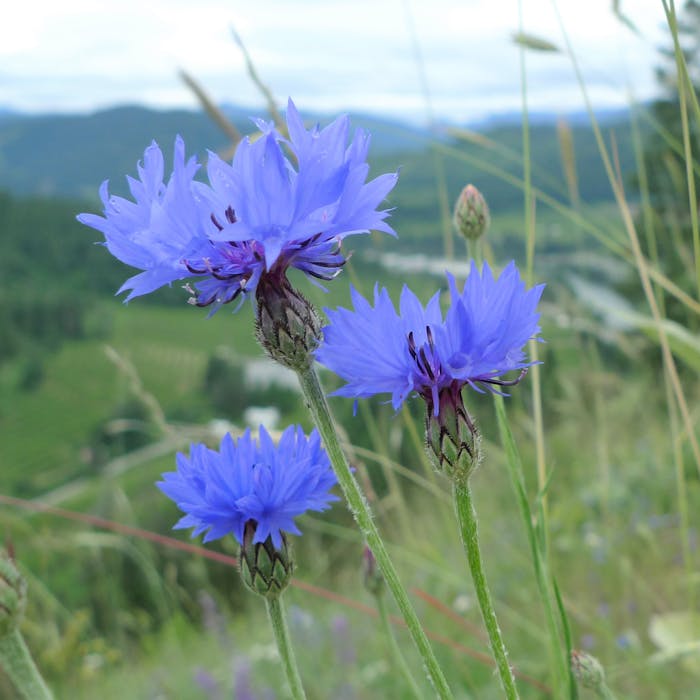 The cornflower - back from the brink
The cornflower is rarely seen these days gracing our arable fields in the summer. It was once a familiar British wildflower in farms and meadows. However, it has become a popular garden annual plant - easy to grow, beautiful, and providing food for many pollinators.
The cornflower (Centaurea cyanus) is regarded as a weed, detracting from the cultivation of grain crops. And hence the subject of eradication. It is now almost extinct in the wild in the UK.
The cornflower has declined dramatically everywhere in the wild in the last 60 years, and fields full of these flowers were last seen between the wars. Its disappearance is due to modern agricultural practices, such as increased use of herbicides and fertilisers, the destruction of field-edges, the demise of traditional crop rotations and improved seed-corn cleaning and the conversion of marginal arable land to pasture. These factors continue to be a threat to its future.
The plant grows to 1-3 feet tall, with blue-grey leaves and deep blue flowers that fade slightly with age. Each plant has many stems, which produce a single flower. They begin flowering from June. The seeds that follow are loved by birds and are one of the favourite foods of the European goldfinch.
The nectar of the cornflower is very sweet, with a sugar content of 34%, and thus the species is highly appreciated by beekeepers.
One of the best displays of such arable weeds in the UK can be seen at a Wildlife Trust nature reserve, College Lake, in Buckinghamshire. Every summer, a riot of colour can be enjoyed with flowers, such as Cornflower and Common Poppy, in bloom. Once an old quarry, a cache of topsoil was discovered in the 1980s when the area became a nature reserve, and spread over special plots. Dormant seeds in it soon grew to produce a stunning display, which is now lovingly cared for by local conservationists.
Further reading
Links to external websites are not maintained by Bite Sized Britain. They are provided to give users access to additional information. Bite Sized Britain is not responsible for the content of these external websites.