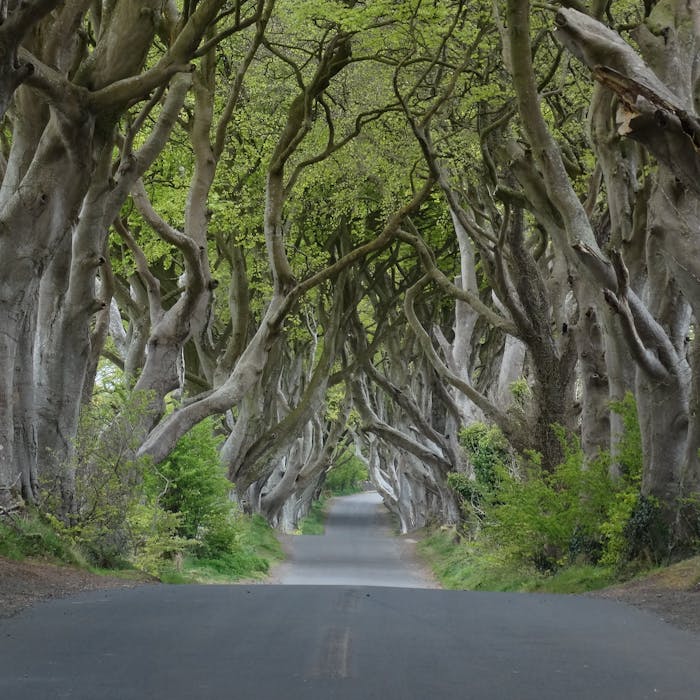 The Dark Hedges of County Antrim - a weird woodland world
A beautiful avenue of beech trees, planted by the local landowning family in the eighteenth century, has provided the legacy known as the Dark Hedges of County Antrim - a somewhat eerie landscape to be found near Ballymoney in Northern Ireland.
The original idea was to provide a welcoming and impressive scenic road leading up to the Stuart's estate, Gracehill House. But the trees took on a life of their own.
As the beech trees matured, they began to bend over and enclose the road, with their upper branches intermingled, creating a shadowy arboreal tunnel, and a rather otherworldly atmosphere.
Two centuries later, the trees remain a magnificent sight, and have become one of the most photographed natural phenomena in Northern Ireland. The bent trunks and gnarled branches give the road an aura of the supernatural. These characteristics have landed the location a number of roles in both movies and television programmes, such as Game of Thrones.
The Dark Hedges even have their own ghost story, which features a "Grey Lady" who floats along between the trees, and disappears just as the lane ends.
Gracehill house and immediate grounds are now privately owned with some of the estate developed into a popular 18-hole parkland golf course and The Hedges Hotel. But the unique, tranquil and spellbinding tunnel of ancient beech trees along the Bregagh Road, is a publicly available experience offering a spectacular fusion of light and shadow.
Further reading
Links to external websites are not maintained by Bite Sized Britain. They are provided to give users access to additional information. Bite Sized Britain is not responsible for the content of these external websites.