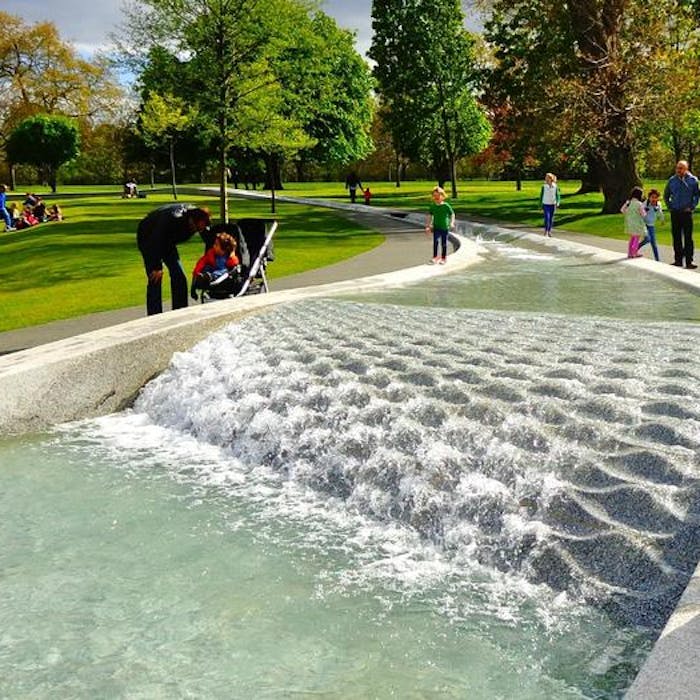 Princess Diana's London memorial fountain
The Diana, Princess of Wales Memorial is a fountain dedicated to the memory of the much-loved former royal.
It was built in 2001, four years after she was killed in the tragic Paris car crash. The fountain is located south of the Serpentine Gallery in Hyde Park, London.
The memorial was built to reflect her spirit, energy and love of children. Diana was seen as a contemporary and accessible person, so the goal of the memorial was to allow people to freely access the structure and connect directly with the water by wading in it.
The fountain was designed by American landscape artist Kathryn Gustafson of Gustafson Porter, and cost £3.6 million. It contains 545 pieces of Cornish granite - each shaped by computer-controlled machinery, but pieced together using traditional skills. Water flows from the highest point in two directions as it cascades, swirls and bubbles before meeting in a calm pool at the bottom. The water is constantly being refreshed and is drawn from London's water table. There are three bridges where visitors can cross the water and go right to the heart of the fountain.
It was subject to a number of initial problems, and shortly after its opening by the Queen, three people were hospitalised after slipping in the water, which led to the closure of the fountain. It was modified and reopened in August 2004, surrounded by a new fence, and people were prevented from walking or running in the water by wardens. However, it is now permissible to enter the water again.
The Fountain broke new ground in terms of both memorials and landscape design, and has won a series of international design awards, as well as becoming one of London's most popular visitable attractions.
Further reading
Links to external websites are not maintained by Bite Sized Britain. They are provided to give users access to additional information. Bite Sized Britain is not responsible for the content of these external websites.