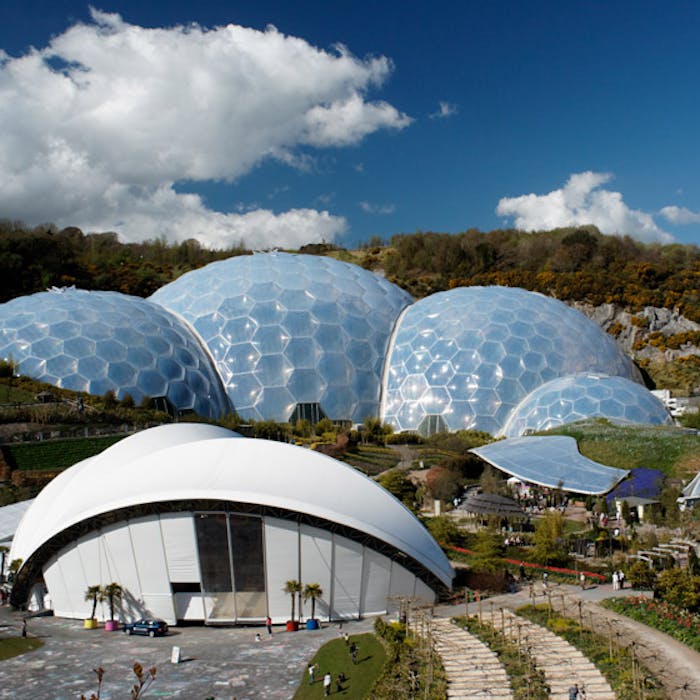 The Eden Project - global biospheres in Cornwall
The Eden Project, a haven of botanical delights nestled in a huge crater near St Austell in Cornwall, has got to be one of the horticultural wonders of the world. Two huge Biomes there house thousands of plant species - including the largest indoor rainforest in the world.
As well as the impressive Rainforest Biome, Eden has a Mediterranean Biome and beautiful gardens outside the domes.
The Eden Project is built on the site of a clay pit which was in use for over 160 years. In 1981, it stood in for the planet surface of Magrathea in the TV series The Hitchhiker's Guide to the Galaxy. By the mid-1990s the pit was no longer commercially viable, and a Dutch-born British businessman, Sir Timothy Bartel Smit, built on his experience in rediscovering the Lost Gardens of Heligan, and the Charlestown Shipwreck & Treasure Centre
also in Cornwall, with his idea for the Eden Project.
To fund it, the Millennium Commission weighed in with £37.5 million of Lottery funding to single Eden out as the 'landmark' project of the far South West, and their subsequent contributions brought the total to just over £56 million, out of the £80 million total investment.
Construction to a design by architect Nicholas Grimshaw began in 1998, and the first part of it opened to the public in May 2000. The theme of the garden is to tell the story of human dependence on plants.
The Rainforest Biome has over 1,000 varieties of plant, covers 3.9 acres and is 180 feet high. Visitors can enjoy the canopy walkway, waterfall, tropical birds, and coming up close to some of the world's most charismatic crop plants like banana, coffee and cacao.
Further reading
Links to external websites are not maintained by Bite Sized Britain. They are provided to give users access to additional information. Bite Sized Britain is not responsible for the content of these external websites.