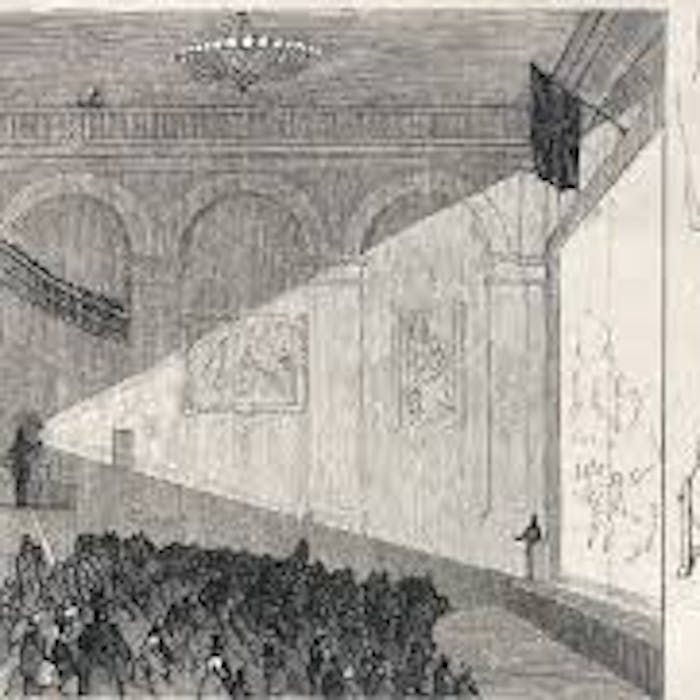 The first picture show - London, 1896
The first public film shows in the UK to a paying audience took place in London in 1896. On 21st February that year, the Polytechnic Institute on Upper Regent Street near Oxford Circus hosted a display of the Lumière brothers' new moving-picture device, the Cinématographe.
Before that, the only projected images were those glass slides projected through magic lanterns. The original cinema, which had closed, reopened six years ago.
Consisting of short films made in France by the Lumière brothers and shown via their Cinématographe equipment, the programme at the Polytechnic Institute was so successful that it transferred to the Empire music hall in Leicester Square as one of the top items on the bill. A British inventor, R. W. Paul, showed films at Olympia the following month via his rival system, which was booked into the Alhambra music hall in Leicester Square and elsewhere. The third major variety theatre in London, the Palace, adopted the American Biograph system in March 1897.
The new marvel of 'animated pictures' spread rapidly through travelling fairs, through showmen hiring local halls for special shows, and through the music halls everywhere. Once film had demonstrated its lasting appeal, businessmen began taking over shops, halls and railway arches, painting over the windows and otherwise rather crudely converting them into full-time cinemas. A slightly more elaborate variation involved an auditorium resembling a railway carriage presenting moving views ('Tours of the World') that had been photographed along railway lines.
The first recognised cinema auditoriums were opened in Britain in 1910, and several can lay claim to still being in operation. These include The Electric, Birmingham which opened on December 27 1909, but little remains of any Edwardian features after it was rebuilt in 1937; the Duke of York's, Brighton, which claims to be Britain's oldest "unaltered" purpose-built cinema; Theatr Colwyn, Colwyn Bay, where there is evidence of the first films being shown in January 1909, though for some of its history, it has operated as a theatre only; The Electric in Notting Hill, which debuted in February 1911; The Curzon, Clevedon, Somerset which opened in April 1912 with an appeal for survivors and relatives of those lost in the sinking of the Titanic; The Phoenix, East Finchley, which opened in 1912, but was rebuilt in 1938.
Britain's officially oldest cinema - the Polytechnic Institute on Regent Street, which showed the original Lumiere films - had closed in the 1980's to be used as a lecture theatre by new owner University of Westminster, but reopened 5 years ago with the aid of a £6.1m restoration project. In an art-deco style by architect Tim Ronalds, it is now dedicated to showing independent British cinema, young directors and film-makers from London.
Further reading
Links to external websites are not maintained by Bite Sized Britain. They are provided to give users access to additional information. Bite Sized Britain is not responsible for the content of these external websites.