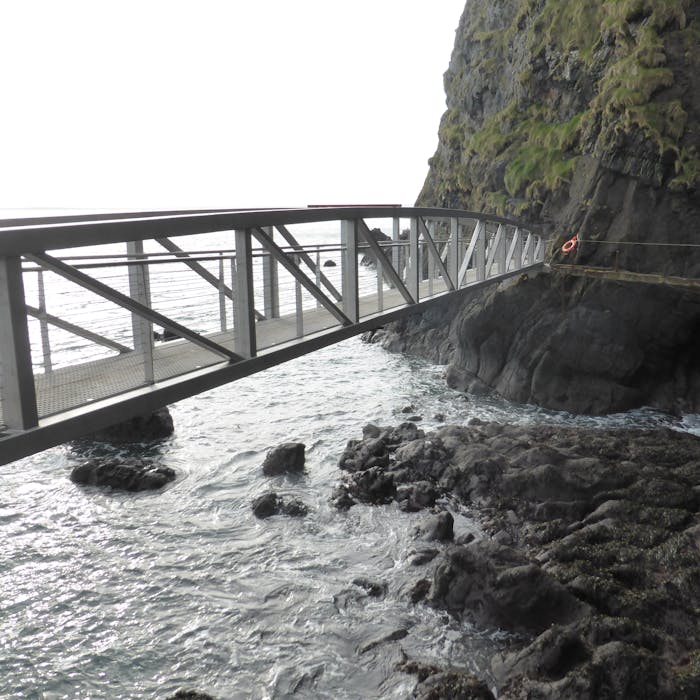 The Gobbins - dramatic coastal walk in Northern Ireland
The Gobbins is a dramatically located cliff-face path at Islandmagee, County Antrim, Northern Ireland, on the Causeway Coastal Route. It runs across bridges over the sea, past caves and through a tunnel, along The Gobbins cliffs.
Opening up this access for walkers was the dream of Berkeley Deane Wise at the beginning of the 20th century.
Wise was a solicitor's son from County Wexford and a member of the growing Victorian middle class – raised in Dublin and schooled in England. He began his civil engineering career in 1872, working on the railway line between Dublin and Wexford, and showed both an inventive streak and a passion for safety.
At the age of just 22, he developed tunnels and bridges for one of the most challenging railway sections in the country, along the coast at Bray Head. This and other experiences helped give Wise the skills he needed to conceive his ultimate achievement – The Gobbins – just over 25 years later.
Wise saw that the Antrim coast offered spectacular landscapes and bracing experiences within easy reach of Belfast. He created innovative new paid-for attractions that would encourage visitors to use the railway company's services, opening up forests and coastline, and installing pathways, tea rooms and train stations.
Wise began work on The Gobbins cliffs in 1901, with the first stretch of path opening in 1902. The Gobbins drew worldwide acclaim, with newspapers declaring that 'the varied beauty of this cliff path baffles all description'. As many people walked the path, as visited the Giant's Causeway each year.
Wise died in 1909. The path welcomed visitors for another thirty years, but it was closed during the Second World War. Though it reopened in 1950, landslips and maintenance problems forced it to close again in 1954.
From 2011-2015, Larne Borough Council led a project to reopen The Gobbins. A series of new bridges and galleries were constructed and installed during 2014–15, and opened to visitors in 2016. The path now attracts tens of thousands of visitors each year. Mid and East Antrim Borough Council, The Gobbins' current custodians, are laying plans for an extension that will realise Berkeley Deane Wise's complete original vision.
The cliffs are recognised for their rich birdlife, important geology and notable species.
Further reading
Links to external websites are not maintained by Bite Sized Britain. They are provided to give users access to additional information. Bite Sized Britain is not responsible for the content of these external websites.