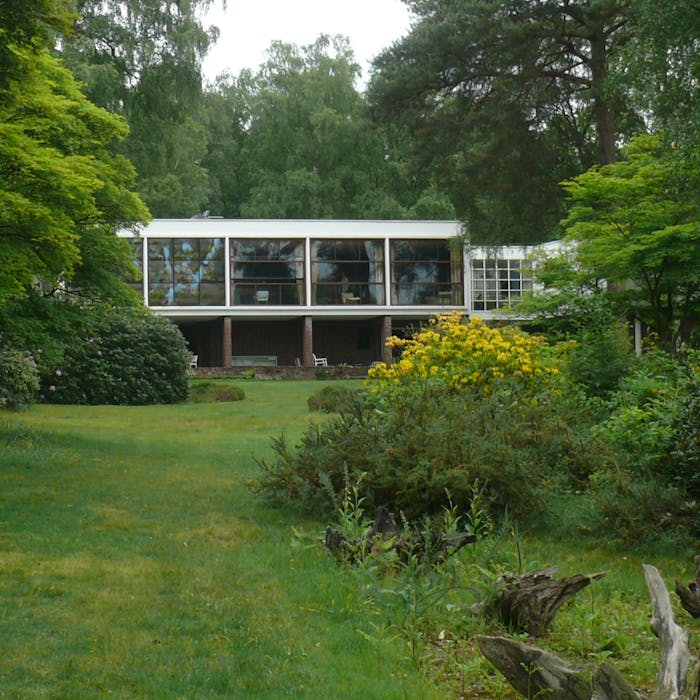 The Homewood - One Architect's Vision of the Future
The Homewood in Esher is a classic Modernist house belonging to the National Trust. It was originally built by a young and untried architect for his very trusting and indulgent parents.
Prior to the Second World War, Mr and Mrs Gwynne had the good fortune to live in a Victorian house set in 10 acres of landscaped and manicured grounds in Esher, Surrey.
Their 24-year old son, Patrick, was training as an architect and in 1938 the fond parents allowed him to demolish their house in order to build a new one for them in his preferred new-fangled style. This was his first commission to build a house from scratch.
It soon became clear that the new build was going to exceed the estimate, so the family sold off a village they owned in Wales to finance the project - which finally cost £10,000 - a huge amount for the time.
The finished house was called The Homewood and was in a Modernist style. Patrick Gwynne had long been influenced by a school sketching excursion near Amersham in Buckinghamshire, where he saw the house "High and Over", one of the first Modernist houses built in Britain.
The Homewood is elevated on narrow pillars (piloti) and is typical of the style with horizontal lines and lack of exterior decoration. The interior is open plan with the spaces signified by furniture arrangement. It is spare, spacious and functional, yet comfortable. The ingenuity of the youthful architect is evident in mechanised blinds over the floor to ceiling windows, convertible work desks, multipurpose cabinets (some with interior lighting), concealed storage and bedroom ensuites. The colour scheme is neutral ranging from cream or white, shades of brown to chocolate and black with some sky blue accessories. There is a touch of luxury, though, with one lavish bespoke glass chandelier on the landing.
Sadly, Gwynne's parents only had one good year in the house before the war intervened, and they both died in 1942. Patrick Gwynne continued to live in the house for the rest of his life. He had a successful and influential architectural career, but The Homewood remained forever his favourite creation and he enriched it over the years with contemporary features and furniture of his own design, and by creating the beautiful woodland garden.
When Patrick Gwynne died, he left the house to the National Trust on the proviso that a family would live in it and that it must be open to the public for one day a week for six months of the year.
The house has featured in the occasional period drama, including a television version of Agatha Christie's Endless Night, in which it features as a major motivator of the action.
Further reading
Links to external websites are not maintained by Bite Sized Britain. They are provided to give users access to additional information. Bite Sized Britain is not responsible for the content of these external websites.