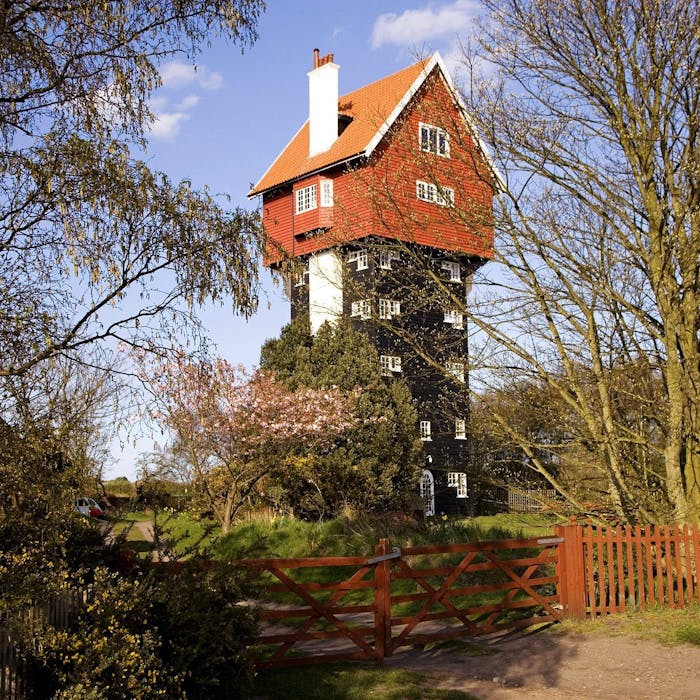 The House in the Clouds - a towering illusion in Suffolk
The House in the Clouds is an amazing building in Suffolk, created to disguise an ordinary water tower. The delightfully located property is now self-catering holiday accommodation. Just the thing for the family that wants to get away from it all without actually needing to take to the air...
The building exists because, during the early 20th century, the owner of the nearby resort community of Thorpeness required a water tower to be constructed to meet the residents' needs. The challenge presented to the engineering company selected for the job was to somehow minimise the visual impact the tower would have on the views for the local residents. The solution they arrived at ultimately became the 'House in the Clouds.'
Built in 1923, the 70-foot-tall tower consisted of a large metal tank at the top that held 50,000 gallons. The tank was enclosed in a facing to give it the appearance of a weatherboarded building complete with fake windows, and thus more in keeping with Thorpeness's mock-Tudor and Jacobean style. The house that sits atop seems to float above the trees. The support structure was also turned into living spaces.
A British author of children's stories, Mrs. Malcolm Mason, is credited with the naming of the house. Originally called the 'Gazebo,' Mrs. Mason christened it instead the 'House in the Clouds' after penning a poem while staying at the newly-built home.
Damaged by a stray English anti-aircraft shell during World War II, the metal tank was reduced to 30,000 gallons after repairs.
By 1977 the tank no longer served any purpose to the local community and work was begun in 1987 to convert the large space at the top into a games room. Today the entire structure is open for holiday rental and has five bedrooms, three bathrooms, and 68 stairs in its five stories.
Further reading
Links to external websites are not maintained by Bite Sized Britain. They are provided to give users access to additional information. Bite Sized Britain is not responsible for the content of these external websites.